The Kodak Alaris E1035 scanner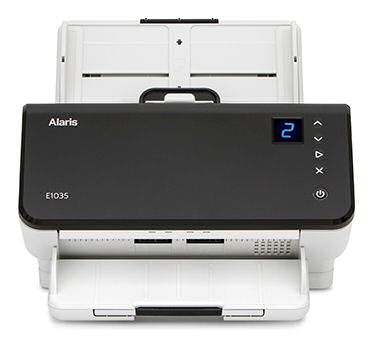 35 pages per minute
70 images per minute -Duplex
Up to 4,000 pages per day
ADF holds 80 pages for feeding
The Kodak Alaris
E1035 Scanner
List Price
$495
Your Price
$370

Includes Manufacturer's 3 Year Advanced Unit Exchange Warranty
Compare to similar models
GSA Compliant model also available.
kodak 1025071
Watch the 2 minute video:
PPM is pages per minute. IPM is images per minute (2 images -2 sides- one page = duplex mode)
Faster, easier scanning leaves more time for business
The e1025/e1035 scanners enhance your productivity by handling more of the work traditionally done by people, computers and mobile devices.
Impressive Productivity
Scan larger batches in input trays that hold up to 80 pages
No waiting for warmup: start scanning instantly with always-ready LED light
Built-in barcode reading delivers data to applications.
Document handling you can trust
Intelligent Document Protection "listens" for a telltale crumpling sound and immediately stops the scanning process.
Multifeed sensor technology is designed to detect when two or more documents are being fed into the scanner at the same time.
Capture that streamlines your business processes
Handle almost anything: small documents or large, thick or thin, ID cards, even embossed hard cards
Mix small, large, thin and thick documents in one batch
Intelligent Barcode Reading produces the most accurate data extraction results and takes complexity out of the setup process.
Convenient push and pull scanning options allow users to scan from business applications or send images directly to applications from the scanner.
Eliminate complicated multi-step scanning processes with one-touch simplicity using Alaris Smart Touch technology.
Easy to set up,
Easy to use
Bundled with Alaris Smart Touch to enable easy and automatic scanning, helping drive digital transformation.
Connect to various applications such as Box, Dropbox, Salesforce, OneDrive, Google Drive, SharePoint, SharePoint Online, and more.
Easy, icon-based color interface and one-button functionality make it easy to get the right information to the right place.
E1035 is backed by a three-year, worry free warranty that gives you extended peace of mind.
Alaris Smart Touch Scanning Software
You can also download the Capture Pro Software -Desktop Edition
from the Kodak Alaris Website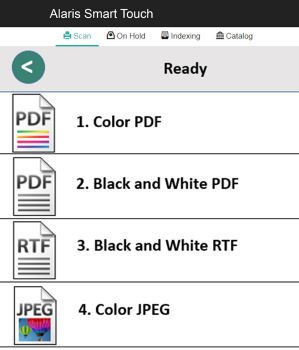 With the e1000 Series models, you get our exclusive Perfect Page Scanning.
This suite of built-in technologies automatically makes color, grayscale and bitonal scans incredibly clear, for excellent readability—by people and OCR software alike.
You'll also receive:
Bundled ISIS, WIA and TWAIN drivers
Alaris Smart Touch Scanning Software
And you can download the Kodak Capture Pro Desktop Edition
8.5"x14"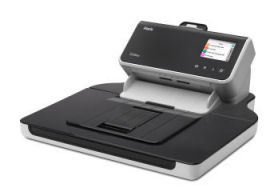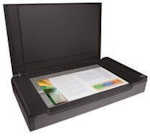 11"x17"
Sometimes you need a flatbed, sometimes you don't.
Sometimes you need a flatbed, but many times you don't. That's when our tethered flatbed design saves valuable workspace. Just attach the flatbed via tether to your e1000 series scanner and easily cruise through all your exception scanning items. The flatbed can scan at up to 1200 dpi. When you're done, the flatbed detaches just as easily for storage away from your desktop. But don't hide it, because a detached flatbed can serve the needs of multiple work groups or departments. Sharing is good, and in this case, it's more economical, too.
Available in both Legal and Letter size scan areas.
Download the flatbed brochure here
Throughput Speeds*
(portrait, letter size)
Bitonal/grayscale/color @ 200 OR 300 dpi
e1025: 25 ppm/50 ipm
e1035: 35 ppm/70 ipm
Daily Duty Cycle

Recomended by Manufacturer
e1025: 3,000 pages per day
e1035: 4,000 pages per day
Scanning Technology
Dual CIS;
Grayscale bit depth is 256 levels (8-bit)
Color capture bit depth is 30 bits (10 x 3);
Color output bit depth is 24 bits (8 x 3)
Operator Control Panel
1.5-inch color LCD

Optical Resolution
600 dpi
Illumination
Single LED (light emitting diode)
Output Resolution
75, 100, 150, 200, 240, 300, 400, 600 dpi*
Maximum Document Size
8.5 in. x 118 in.
Minimum Document Size
2.08 in. x 2.05 in.
Paper Thickness and Weight
(7.2 lb. bond paper - 110 lb. stock)
ID card thickness: up to 1.4 mm (0.05 in.)
Consumables available
Feed module, separation module, feed rollers, roller cleaning pads, Staticide Wipes
Multi-feed Detection
With ultrasonic technology
Intelligent Document Protection
Connectivity
USB 2.0 (Compatible with USB 3.0)
Bundled Software
Windows Bundled software: TWAIN, ISIS, WIA Drivers; Alaris Smart Touch Software.(Capture Pro Limited Edition available via download)
Imaging Features
Barcode reading; Perfect Page Scanning; iThresholding; adaptive threshold processing; deskew; autocrop; relative cropping; fixed crop; add/ remove border; electronic color dropout; dual stream scanning; enhanced color management; enhanced color adjustment; brightness and contrast adjustment; automatic orientation; automatic color detection; background color smoothing; intelligent image edge fill; image merge; content-based blank page detection; streak filtering; round/rectangular hole fill; sharpness filter; auto brightness; auto white balance; all-color dropout; multi-color dropout; long document scanning (up to 3000 mm/118 in.)
File Format Outputs
Single and multi-page TIFF, JPEG, RTF, BMP, PDF, searchable PDF, TXT, PNG, CSV, Word and Excel
Warranty
(US and Canada)
Three-year warranty
Accessories
A4/legal size flatbed, Passport flatbed, Capture Pro Software- Pro version.
Electrical Requirements
100-240V (International); 50-60 Hz
Power Consumption
Off: less than 0.5 watts; Sleep mode: less than 3.0 watts; Running: less than 36 watts
Environmental Factors
EPEAT Registered ENERGY STAR Qualified Operating Temperature: 10-35° C (50-95° F) Operating Humidity: 15% to 80% RH
Acoustical Noise
Off or Ready mode: Less than 20 dB(A)
Scanning: Less than 50dB(A)
Recommended PC Configuration
Minimum PC configuration with scanning application: Intel Core i3 processor or faster, at least 4 GB RAM (Microsoft Windows)
Supported Operating Systems
WINDOWS 7, 8 (32-bit and 64-bit), WINDOWS 10 ( 64-bit), WINDOWS Server 2012 x64 Editions, LINUX UBUNTU and SUSE. Citrix Certified
Dimensions
Weight: 7.2 lbs.
Depth: 8 inches not including trays
Width 12.3 inches
Height: 7.2 inches not including trays
* Throughput speeds may vary depending on your choice of driver, application software, operating system and PC.
Kodak Flatbed Accessories
for the E1000 Series Scanners
Scan bulky, bound and fragile documents with ease
The Flatbed Accessory that integrates fully with Alaris E1000 Series Scanners for ongoing productivity when challenging documents make their way into your workflow: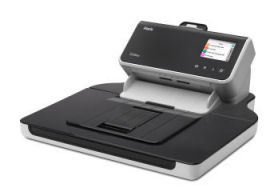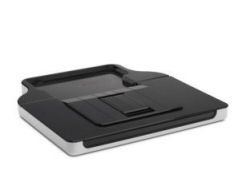 Kodak Legal size (8.5"x14") flatbed
for all the E1000 Series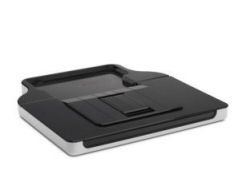 only operates with a Kodak e1000/s2000 series scanner, this is not a stand alone flatbed
List Price
$495.00
Your Price
$459.00

Kodak Flatbed Passport Scanner
for all the E1000 Scanners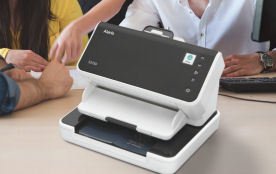 (only operates with e1000/s2000 Series,
this is not a stand alone flatbed)
List Price
$495.00
Your Price
$459.00

Kodak e1000 Series
Scanner Parts & Supplies
(includes the e1025,e1035 scanners)
CAT No.
Description
Price
kodak 1025162
Kodak Feed Roller Kit for e1000 Series Scanners Includes:
1 pre-separation pad
1 separation roller assembly
1 urging roller tire
2 fee roller tires

1690783
Scanner Cleaning sheets
50 sheets per pkg
Works Great...Feed the sheet through and IT cleans the scanner transport for you !
Usage 2-4 times per 8 hour shift of scanning.
We currently do not have reviews of this new model.
Call us for your


Winter Savings


1-800-977-4935!