The Fujitsu fi-7460 Scanner
Designed for professional workloads and engineered to last
60 ppm/ 120 ipm
in landscape (11"x17" mode)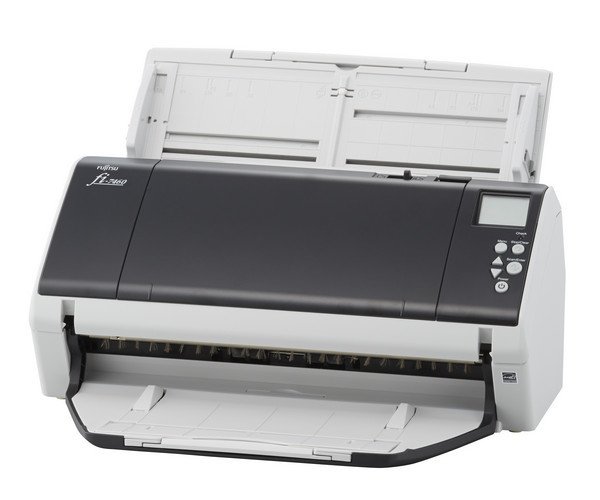 Scans up to 11"x17" paper
includes 90 day On Site warranty
Fujitsu fi-7460
with PaperStream IP
List Price
$2,995.00
Your Price
$2,338.94
Call or Request a Quote
1-800-977-4935
Leasing as low as $96 a month with
a $1 equipment purchase price
at the end of the lease.

Compare to similar models
Wide variety of media captured by most compact scanner
The fi-7460 is ideal for office use as the smallest A3-capable scanner of its class. Its wide range feeding ability includes regular A8 to A3 sizes, as well as folded A2 documents and plastic cards. By handling both thick and thin documents, the scanner requires no burdensome pre-sorting with mixed batch scanning.
Designed for professional workloads and engineered to last
Wide range feeding ability including regular A8 to A3 sizes, as well as folded A2 documents and plastic cards
Data and paper protection with Intelligent Multi-feed Function and Intelligent UltraSonic Paper Protection
Fast paper handling with 60ppm/120 ipm, 100-sheets Automatic Document Feeder (ADF) and immediate power-up
Energy efficient LED light-source
USB 3.0 Connectivity
Enhanced with advanced image processing and capture applications
Fast scanning with fast startup
The fi-7460 scans at the high-speed of 60 ppm / 120 ipm (A4, landscape, Color, 200 / 300 dpi). It can also recover from power-saving mode (sleep mode) in a second or less, enabling users to scan immediately and continue work seamlessly without pauses or interruptions.
Scan Versatility
Supports a wide variety of media with new Manual Feed Mode, which enables users to scan envelopes, folded documents, bound pamplets, and other thick (27~413 g/m2) items like plastic cards to capture documents safely and avoid multi-feeds and paper jams.
Reliable, uninterrupted volume scanning
The fi-7460 can efficiently scan a large amount of documents. The ADF paper chute (feeder) can accommodate 100 sheets (A4 sheet, landscape, 80 g/m2) and additional papers can be added while scanning. It also includes several functions to ensure reliable scanning such as:
Automatic Stacker to boost work efficiency
Adjustable-speed rollers control the paper output, so that documents are neatly stacked, a function first in its class2. Organized paper output increases work efficiency by eliminating time spent realigning messy stacks.
Highly reliable paper feeding mechanism
Adopted functions such as the Brake Roller, which separates each document, and the Skew Reducer, which assists in feeding mixed batches, are highly reliable and enable easy digitization. Additionally, each Hopper Side Guide moves independently, so you can easily adjust them to the document width for efficient scanning in mixed batches.
Functions that minimize paper feeding errors
Even if documents are creased, wrinkled or stapled, Intelligent Multi-feed Function and iSOP (Intelligent Sonic Paper Protection) technology protects both the physical documents and the scanner hardware from potential damage. This helps improve and maintain work efficiency.
Option: Post Imprinter (Back-side)
The optional imprinter unit prints identification markers like dates, alphanumeric codes and symbols on reverse side of the original document. This makes it easier to locate the originals of scanned document when you need to reference them.
On-site service helps maximize uptime.
The fi-7460 scanner includes a 90-day, on-site, Limited Warranty.
The PaperStream IP driver takes the work out of image cleanup when scanning invoices, ID cards, receipts, forms, or any other day to day paperwork. PaperStream IP automatically improves the image quality, removes unwanted backgrounds, and optimizes your scanned images for optical character recognition. It is fast and easy to use.
Our latest innovation, Assisted Scan, allows users to replace poor images by visually selecting the image they lack rather than learning driver settings. If driver settings need to be adjusted for rare and difficult documents, our preview function allows scan operators to see their adjustments in real-time without time consuming re-scans. PSIP works with both ISIS and TWAIN applications
PaperStream Capture (PSC) makes advanced capture with Fujitsu scanners easier than before. PaperStream Capture has a streamlined User Interface to reduce training time and increase productivity. Not only have we provided users with the most common profiles used by customers—black and white, color, and auto-color—new profiles are easily created or modified through a wizard.
We have organized the release screen so that batches can easily be suspended or continued. PSC is also integrated with PaperStream IP's assisted scanning for visual cleanup of documents. The reading of barcodes and patch codes make batch separation easy, improving document organization.
Whether the infrastructure is fixed or expanding, managing technology efficiently inside the organization is key to reducing total cost of ownership and the Fujitsu fi-7460 scanner provides system administrators with advanced software tools to centrally manage the scanner more productively and cost effectively.
Agent, console and server remote scanner management
Real-time Fujitsu scanner inventory
Status and alert monitoring
Centralized driver update deployment
Consumable management
Fujitsu fi-7460 scanner
Specifications
Image Sensor Type
Charge coupled device (CCD) image sensor (1 front,1 back)
Light Source
White LED Array x 4 (front s, back x2)
Output Resolution (dpi)
Monochrome, Grayscale and Color
50 – 600
(adjustable by 1 dpi increments)
1200 dpi (driver)
Optical Resolution (dpi)
600 dpi
Output Format
Color: 24 bit, Grayscale: 8 bit,
Monochrome: 1 bit
Internal Video Processing
4,096 levels (12-bit)
ADF capacity
(paper chute)
100 Sheets (letter, 20 lb.)
ADF minimum
2 in. x 2.72 in.
ADF maximum
12 in. x 17 in.
Long Document
12 in. x 220 in.
Interface
USB 3.0 / USB 2.0 / USB 1.1 (backward compatible)
Letter/Landscape Mode
Simplex/Duplex
Monochrome, Grayscale & Color @ 200/300 dpi
60 ppm/120 ipm
Letter/Portrait Mode
Simplex/Duplex
Monochrome, Grayscale & Color @ 200/300 dpi
50 ppm/100 ipm
Power requirements (auto-switching)
AC 100 - 240V, 50 / 60 Hz
Power consumption
Operating:36 W or less
Sleep mode: 1.4 W or less
Operating environment
Temperature:41°F - 95°F (5°C - 35°C)
Relative Humidity
20% - 80% (non-condensing)
Dimensions (HxWxD)
6.61" x 15" x 8.23" (trays closed)
Reliability Specifications
Daily duty cycle
Up to 9,000 documents per day
Limited Warranty
3 months on-site
Options
Post Imprinter (Back-side)
Image processing functions
Multi image output, Automatic color detection, Blank page detection, Dynamic threshold (iDTC), Advanced DTC, SDTC, Error diffusion, De-Screen, Emphasis, Halftone, Dropout color (None /Red /Green /Blue /White / Saturation /Custom), sRGB output, Hole punch removal, Index tab cropping, Split image, De-Skew, Edge correction, Vertical streaks reduction, Cropping, Dither, Static threshold
In box Software / Drivers
(on DVD) *software can be downloaded from website designated in the Setup DVD
PaperStream IP (TWAIN/ISIS), Software Operation Panel, Error Recovery Guide, PaperStream Capture, ScanSnap Manager for fi Series, 2D Barcode for PaperStream, Scan to Microsoft SharePoint, ABBYY FineReader for ScanSnap, Scanner Central Admin Agent
Operating System Support
Microsoft® Windows Vista,7, 8,10
Microsoft® Windows Server 2008,2012
Part Number
fi-7460 – PA03710-B055
PC Minimum Specifications
Requires i5 2.5 MHz Processor, 4 GB RAM memory or above for optimum throughput
We do not have any accessories available for this product. Please contact Fujitsu for parts.
This model only comes with a 90 day On Site warranty.
Extend your warranty coverage with a genuine Fujitsu warranty
One Year options are shown below,
2 and 3 year options are also available. Please call for pricing!
We do not have any current reviews of this product.
Please follow the link below to add your review:
Product Reviews Form
Ask us about our
Summer Savings!
Hurry - Offers End Soon!