The Fujitsu fi-7700 Scanner
with flatbed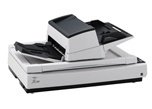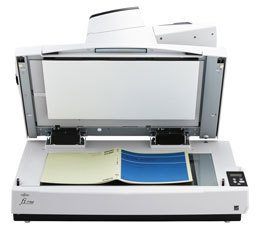 100 ppm/ 200 ipm
in landscape (12"x17" mode)
Includes 90 day
onsite warranty
Fujitsu fi-7700
with 12"x18" flatbed
List Price
$7,995.00
Your Price
$6,398.97
Call or Request a Quote
1-800-977-4935
Leasing as low as $154 a month with
a $1 equipment purchase price
at the end of the lease.
Compare to similar models
With production-class automatic feeding and a large flatbed, the fi-7700 is the best of both worlds. Enable your back office to be more productive and make fewer errors with innovative features for clear, accurate scans - every time.
Incredible speed and flexibility
Accurately powers through your documents at up to 200 images per minute
High-capacity 300-page Automatic Document Feeder suitable for continuous scanning
Accepts a wide variety of documents: thin paper, plastic cards, long documents, and envelopes
Special mode to scan extra-thick documents
USB 3.0 Connectivity
Two independent control panels, one on each side, allow the fi-7600 to fit any workspace
Protect your paper – and the information on it
Straight paper path reduces the stress on your stack of documents during scanning
Forgot to remove a staple? Intelligent Sonic Paper Protection "listens" to paper flowing through the machine and stops if a misfeed occurs, reducing damage to your documents
Intelligent MultiFeed Function allows easy manual bypass for sticky notes, taped receipts, and labels that can slow down batch scanning
Ultrasonic Double Feed Detection identifies sheets stuck together so you don't miss an image
Skew Reduction signifi cantly improves feeding performance and ensures that your whole document gets accurately captured from edge to edge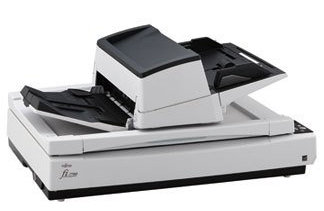 Clean up and optimize scans without changing settings in advance
PaperStream IP (PSIP) is a TWAIN/ISIS ®-compliant driver with smart features including:
Assisted Scanning lets you choose the best image cleanup through visual selection
Advanced Image Cleanup corrects the toughest documents, including colored and decorated backgrounds, to improve OCR and reduce rescans
Auto Color Detection identifies the best color mode for the document
Blank Page Detection removes blank pages automatically
Front and Back Merge places two sides of a page into one convenient image
PaperStream Capture makes scanning fast and easy
Eliminate the learning curve. PaperStream Capture's user-friendly interface allows easy operation from start to finish. Changing scan settings is simple. Indexing and sorting features include barcode, patch code, and blank page separation – making batch scanning a breeze for operators.
Make it even better with PaperStream Capture Pro
Optional PaperStream Capture Pro software offers an improved feature set with superior front-end capture, image processing, and options for enhanced data extraction and indexing for release.
Centralized fleet management
Includes Scanner Central Admin Agent to remotely manage your entire fi Series fleet. Effectively allocate your resources based on scan volume, consumables wear, and more.
On-site service helps maximize uptime.
The fi-7700 scanner includes a 90-day on-site, Limited Warranty.
Improved feeding for large volumes of mixed batches
Mechanism for stable paper feeding and ejecting that prevents document damage and paper mis-feeds
Scan various types of business documents with a single scanner
The straight paper path design provides reliable scanning regardless of the condition and type of paper.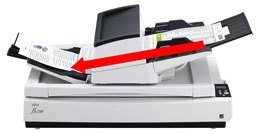 The Paper Picking Control function observes each document's movement, and controls the pressure put on the papers that are set on the chute, making smooth continuous feeding possible.
By simply changing the feed mode to Manual/Single mode, you can easily scan thick documents such as drawings folded in half, multi-layered receipts, and envelopes with the same straight paper path operation.

Protect important information by preventing missing edges and document damage
Skew Reducer helps improve the feeding performance significantly and prevents a scanned image from missing an edge.

Paper Protection function minimizes the risk of document damage and protects your important documents by detecting anomalies in sound and document length.
Design that meets the user's needs
The fi-7700 helps improve the efficiency of operations by providing a variety of functions that make scanning easier for the user.
Fully utilize allocated space with its flexible design
The scanner is equipped with an ADF that can slide to the right or left or rotate 180 degrees. A user can load documents easily for scanning by adjusting the ADF to suit the user's office or workspace environment.

The operational panel is equipped with an LCD to easily check the status of the scanner.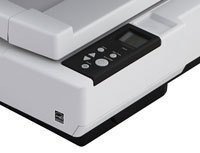 Reduce the workload before and after scanning from setting to collecting documents
When setting documents, you can easily align the edges of the documents with independent Side Guides even if the size of each document varies.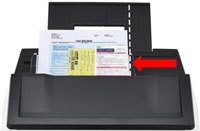 Stacker Side Guides reduce the time and effort required for aligning and putting away documents after a scan by preventing scanned documents from being unevenly stacked or aligned.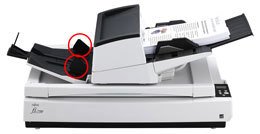 The Cover-open Cropping function automatically recognizes the document's size, even when the cover is opened, and eliminates the hassle of opening and closing the cover when consecutively scanning documents.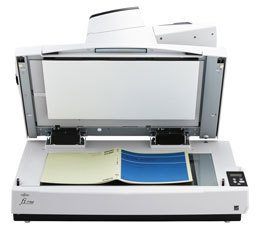 Advanced software for your work efficiency
Connect your business workflow with PaperStream IP and PaperStream Capture
The PaperStream IP scanner driver, which supports TWAIN/ISIS, avoids the inconvenience of fine settings adjustment for OCR processes. It automatically converts the images into exceptionally clean images, accelerating OCR even when scanning wrinkled or soiled documents, or documents with a background pattern. With an intuitive interface, PaperStream Capture effectively and efficiently allows you to feed information into your organization's workflow through various capture features during batch scanning.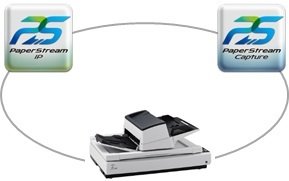 Barcode recognition, automatic sorting, and indexing
You can focus on routine tasks (batch scanning) and configure the scanner to create folders that are divided with barcodes or patch codes as well as automatically sort scanned images to save or index them. The automatic selection of a scanning mode according to patch codes allows you to load a mixed batch of documents with different types of documents at the same time. The usability for an administrator and a user is taken into consideration for image processing, which has made simple operations possible and has improved productivity, so that less work is required for a user to sort scanned images.
Fujitsu fi-7700 scanner
Specifications
Image Sensor Type
Color Charge coupled device (CCD) image sensor (1 front,1 back)
Light Source
White LED Array x 4 (front x2, back x2)
Multifeed Detection
Ultrasonic multi-feed detection sensor, Paper detection sensor
Output Resolution (dpi)
Monochrome, Grayscale and Color
50 – 600 dpi
1200 dpi (driver(2))
Optical Resolution (dpi)
600 dpi
Output Format
Color: 24 bit, Grayscale: 8 bit,
Monochrome: 1 bit
Internal Video Processing
4,096 levels (12-bit)
Image processing functions
Multi image output, Automatic color detection, Blank page detection, Dynamic threshold (iDTC), Advanced DTC, SDTC, Error diffusion, De-Screen, Emphasis, Halftone, Dropout color (None /Red /Green /Blue /White / Saturation /Custom), sRGB output, Hole punch removal, Index tab cropping, Split image, De-Skew, Edge correction, Vertical streaks reduction, Cropping, Dither, Static threshold, Divide long page
Paper Chute Capacity
(landscape(6))
300 Sheets (letter, 20 lb.)
ADF minimum
2 in. x 2.72 in.
ADF maximum
12 in. x 17 in.
Long Document(7)
12 in. x 220 in.
Flatbed
12" x 18" (304.8 x 457.2 mm)
Interface
USB 3.0 / USB 2.0 / USB 1.1 (backward compatible)
Letter/Landscape Mode
Simplex/Duplex
Monochrome, Grayscale & Color
@ 200/300 dpi (4)(5)
100 ppm/200 ipm
Letter/Portrait Mode
Simplex/Duplex
Monochrome, Grayscale &
Color @ 200/300 dpi
80 ppm/160 ipm
Power requirements (auto-switching)
AC 100 - 240V +/- 10%
Power consumption
Operating:64 W or less
Sleep mode
Sleep mode: 1.7 W or less
Operating environment
Temperature: 41°F - 95°F (5°C - 35°C)
Relative Humidity
20% - 80% (non-condensing)
Dimensions (WxDxH)
27.8" x 19.7" x 13.6" (trays closed)
Reliability Specifications
Daily duty cycle
30,000 documents per day
Limited Warranty
3 months on-site
Image processing functions
Multi image output, Automatic color detection, Blank page detection, Dynamic threshold (iDTC), Advanced DTC, SDTC, Error diffusion, De-Screen, Emphasis, Halftone, Dropout color (None /Red /Green /Blue /White / Saturation /Custom), sRGB output, Hole punch removal, Index tab cropping, Split image, De-Skew, Edge correction, Vertical streaks reduction, Cropping, Dither, Static threshold
In box Software / Drivers
(on DVD) *software can be downloaded from website designated in the Setup DVD
(10)PaperStream IP (TWAIN/ISIS), 2D barcode for PaperStream,Software Operation Panel, Error Recovery Guide, PaperStream Capture, ScanSnap Manager for fi Series, 2D Barcode for PaperStream, Scan to Microsoft SharePoint, ABBYY FineReader for ScanSnap, Scanner Central Admin Agent
Operating System Support
Microsoft® Windows Vista,7, 8,10
Microsoft® Windows Server (64 bit only) 2008,2012,2016
Part Numbers
fi-7700 –PA03740-B005
PC Minimum Specifications
Requires i5 2.5 MHz Processor, 4 GB RAM memory or above for optimum throughput
NOTES:
Selectable maximum density may vary depending on the length of scanned document.
When scanning at high resolution (over 600 dpi), some limitations apply to the size of the document that could be scanned, depending on system environment.
Actual scanning speeds are affected by data transmission and software processing times.
Indicated speeds are from using JPEG compression.
Indicated speeds are from using TIFF G4 compression.
Maximum capacity varies, depending upon paper weight.
It becomes the following specifications with resolution.
200 dpi or less : 220 in. (5,588 mm)
300 dpi or less : 215 in. (5,461 mm)
400 dpi or less : 160 in. (4,064 mm)
600 dpi or less : 106.3 in. (2,700 mm)
Capable of scanning up to 3 cards at a time. (Note: only one embossed card can be scanned at a time.)
Excluding the ADF paper chute and Stacker.
The software can be downloaded from the website designated in the Setup DVD-ROM.
The release schedule varies from sales region to sales region.
The Imprinter Option is NOT available on the fi-7700. There is a black background pad that can be used for scanning with the flatbed.
Please call us for pricing.
This model only comes with a 90 day warranty.
Extend your warranty coverage with a genuine Fujitsu warranty
One Year options are shown below,
2 and 3 year options are also available. Please call for pricing!
We do not have any current reviews of this product.
Please follow the link below to add your review:
Product Reviews Form
Call us for your


Winter Savings


1-800-977-4935!