Bookeye 5 V3A Automated Book Scanner
The 5th Generation of the Bookeye Book Scanners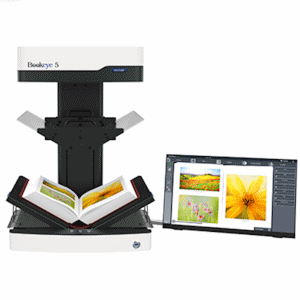 This scanner is FADGI Compliant, the
Fedral Agency Digital Guidelines Initiative
The Bookeye 5
V3A Automated Book Scanner
Using an automated V-shaped glass to protect delicate pages and achieve the highest scan quality.
Motor-driven V-shaped glass plate
Scans documents up to 15.3" x 18.9"
600 x 600 dpi resolution
Dual CCD Line sensor produces 22,500 pixels
21" Touchscreen Monitor
Base Bundle Price

$16,990
Click here for purchase options
The new, motor-driven V-shaped glass plate, which ensures very gentle digitization of books, magazines, posters, folders, or bound documents of all kinds. Works especially well with smaller, old discolored books that require "fingers" to hold the pages down. Protect the delicate book binding with the automated V-Glass plate.