Fast and compact, the fi -7030 is capable of scanning a wide range of paper and features our great PaperStream drivers and software to make your workload easier to manage.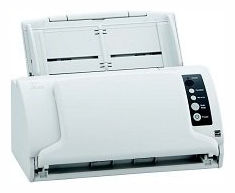 Color Duplex 27 ppm/54 ipm
One Year Depot Limited Warranty
The Fujitsu fi-7030 scanner
List Price
$600.00
Your Price
$471.00

Compare to similar models
Starts up in 1 second from sleep mode
Powers through your documents at up to 54 images per minute*,**
50-page auto document feeder (ADF)
Capable of scanning sticky notes, taped receipts, and labels without misfeeding
Ultrasonic Multi-Feed Detection
Small footprint - only 5 x 11.4 x 6 (HxWxD) inches of desktop space
One-year Depot limited warranty
TWAIN and ISIS Drivers included
Fujitsu's PaperStream IP and PaperStream Cature software
USB 2 port and USB cable.
Small businesses and distributed scanning applications are the ideal market for this sheet fed, full color, duplex scanner. With a daily duty cycle of up to 3,000 letter size documents and the ability to scan letter size at 27 ppm and duplex at 54 ipm in black-n-white or color at 200 or 300 dpi.
Tackle Paperwork With Advanced Scanning Features
The fi-7030 scanner's design includes advanced technology commonly found in high-end scanners, including high-speed USB 2.0 connectivity, a 50-sheet automatic document feeder (ADF) that accommodates a wide range of document sizes (2.1 in. x 2.9 in. to 8.5 in. x 14 in.), and double-feed detection for reliable scanning. Plus at speeds up to 27 ppm (simplex) / 54 ipm (duplex) it quickly and efficiently transforms your paper documents into more manageable digital files.
PaperStream IP (32/64 Bit)
The PaperStream IP driver takes the work out of image cleanup when scanning invoices, ID cards, receipts, forms, or any other day to day paperwork. PaperStream IP automatically improves the image quality, removes unwanted backgrounds, and optimizes your scanned images for optical character recognition. It is fast and easy to use. Our latest innovation, Assisted Scan, allows users to replace poor images by visually selecting the image they lack rather than learning driver settings. If driver settings need to be adjusted for rare and difficult documents, our preview function allows scan operators to see their adjustments in real-time without time consuming re-scans. PSIP works with both ISIS and TWAIN applications.
PaperStream Capture (PSC) makes advanced capture with Fujitsu scanners easier than before. PaperStream Capture has a streamlined User Interface to reduce training time and increase productivity. Not only have we provided users with the most common profiles used by customers—black and white, color, and auto-color—new profiles are easily created or modified through a wizard. We have organized the release screen so that batches can easily be suspended or continued. PSC is also integrated with PaperStream IP's assisted scanning for visual cleanup of documents. The reading of barcodes and patch codes make batch separation easy, improving document organization.
Make it even better with PaperStream Capture Pro
Optional PaperStream Capture Pro software offers superior front-end capture, image processing, and options for enhanced data extraction and indexing for release.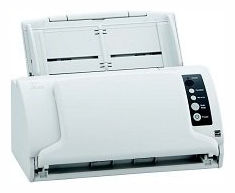 Whether the infrastructure is fixed or expanding, managing technology efficiently inside the organization is key to reducing total cost of ownership and the Fujitsu fi-7030 scanner provides system administrators with advanced software tools to centrally manage the scanner more productively and cost effectively.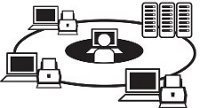 Agent, console and server remote scanner management
Real-time Fujitsu scanner inventory
Status and alert monitoring
Centralized driver update deployment
Consumables management
Scan a batch of various documents at one time

In addition to the Blank Page skip* which removes blank pages from document image data, the fi-7030 has Automatic Paper Size Detection and page rotation functions which ensure that scans always come out the proper size and orientation. These functions make document sorting work before scanning unnecessary, so users can experience efficient, uninterrupted scanner operation.
Ultrasonic double-feed sensor that checks document Feeds
The fi-7030 uses an ultrasonic sensor that accurately detects feed errors which are triggered by documents composed of two or more layers. When a double feed is detected, the scanner stops until the user clears the document. This powerful feature ensures reliable, stress-free scanning for the user.
Technology
Color CIS (Contact Image Sensor) x 2 (front x 1,back x 1)
Optical Resolution
600 DPI
Paper scan thicknesses
Paper: 11 lb. to 56 lb.
Plastic cards: 0.76 mm or less, Embossed card: usable, Multiple cards cannot be set at a time
Image Processing Functions
Deskew, Cropping, Image emphasis, Error diffusion, Dither, Black White Method, Dynamic threshold (iDTC), Static threshold, Advanced DTC, SDTC, De-Screen, Dropout color (Red / Green / Blue / White / None / Saturation / Custom), Automatic color detection, Multi image output, Blank page detection, sRGB output, Split image, Front/Back Merging
Other
Multi-feed
Detection
(Standard) ultrasonic multi-feed detection sensor
Long Page Scanning
up to 220"
Output Resolution
Color (24 bit):50 dpi to 600 dpi, 1,200dpi
Grayscale: (8 bit)
Monochrome: (1 bit)
Output formats
Color: 24bit, 8bit, 4bit
Grayscale: 8bit, 4bit
Monochrome: 1bit
Scanning modes
Simplex Duplex
Document feeding mode
Auto Document Feeder (ADF)
ADF (paper chute)
capacity
50 pages (A4 / 20lb.)
Document
scanning
sizes
ADF maximum:8.5 in. x 14 in.
ADF minimum
2.1 in. x 2.9 in.
Long Page mode
8.5 in. x 220 in. (in.=inches)
Document Thicknesses
11 to 56 lb., Embossed card
Interface
USB 2.0/ USB 1.1 (B type connector)
Software Driver Support
Paperstream IP (TWAIN & ISIS)
Power requirements
100 to 240 VAC
Power consumption
17 W or less Sleep: 1.1 W; Auto standby (OFF): 0.15 W or less
Operating environment
Temperature:41° F to 95° F
Relative humidity
20 to 80% Non-Condensing
Dimensions (W x Depth x H)
11.41 in. x 5.74 in. x 5.11 in.
Warranty
One year DEPOT limited warranty. Purchasor ships to Fujitsu Depot for repair & return.
Service Options
In-Warranty Upgrades- Advance Exchange
Post-Warranty - Advance Exchange Plus
Other Options
Carrier Sheet
Other Features
Ultrasonic Double Feed Detection Sensor, Long Document Scanning (220 in.)
Supported Operating Systems
Windows 10, 8, 7, Windows Vista Windows Server (2008/2012)
32 and 64 bit versions.
Bundled software on DVD
PaperStream IP (TWAIN/ISIS) Driver, 1D Barcode
for PaperStream (Download), Software Operation
Panel, Error Recovery Guide, PaperStream Capture,
Scanner Central Admin Agent
Included Items
AC Adapter, AC Cable, USB Cable, Setup DVD-ROM, Documentation
Minimum PC Specification
PaperStream Capture, i5 2.5 GHz Processor, 4 GB RAM
We do not have any accessories available for this product. Please contact Fujitsu for parts.
Take Care of Your Scanner
with Fujitsu Warranty Service

We do not have any current reviews of this product.
Please follow the link below to add your review:
Product Reviews Form