Starts up in 1 second from sleep mode
Powers through your documents at up to 54 images per minute*,**
50-page auto document feeder (ADF)
Capable of scanning sticky notes, taped receipts, and labels without misfeeding
Ultrasonic Multi-Feed Detection
Small footprint - only 5 x 11.4 x 6 (HxWxD) inches of desktop space
One-year Depot limited warranty
Compatible with major operating systems, Windows, macOS and Linux®
Fujitsu's PaperStream IP and PaperStream Cature software
PaperStream ClickScan allows for scanning in 3 simple steps
The fi-7030 adds efficiency to user workflows with reliable scanning and enhanced image processing functionalities. Built on globally trusted technologies, the device scans A4 portraits at 27 ppm/54 ipm and is capable of scanning up to as many as 4,000 sheets a day.
Tackle Paperwork With Advanced Scanning Features
The fi-7030 scanner's design includes advanced technology commonly found in high-end scanners, including high-speed USB 2.0 connectivity, a 50-sheet automatic document feeder (ADF) that accommodates a wide range of document sizes (2.1 in. x 2.9 in. to 8.5 in. x 14 in.), and double-feed detection for reliable scanning. Plus at speeds up to 27 ppm (simplex) / 54 ipm (duplex) it quickly and efficiently transforms your paper documents into more manageable digital files.
Whether the infrastructure is fixed or expanding, managing technology efficiently inside the organization is key to reducing total cost of ownership and the Fujitsu fi-7030 scanner provides system administrators with advanced software tools to centrally manage the scanner more productively and cost effectively.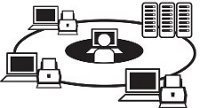 Agent, console and server remote scanner management
Real-time Fujitsu scanner inventory
Status and alert monitoring
Centralized driver update deployment
Consumables management
Scan a batch of various documents at one time

In addition to the Blank Page skip* which removes blank pages from document image data, the fi-7030 has Automatic Paper Size Detection and page rotation functions which ensure that scans always come out the proper size and orientation. These functions make document sorting work before scanning unnecessary, so users can experience efficient, uninterrupted scanner operation.
Ultrasonic double-feed sensor that checks document Feeds
The fi-7030 uses an ultrasonic sensor that accurately detects feed errors which are triggered by documents composed of two or more layers. When a double feed is detected, the scanner stops until the user clears the document. This powerful feature ensures reliable, stress-free scanning for the user.