Bookeye® Book Scanners
by Image Access

Bookeye Book scanners are designed for use in Libraries, Archives and Service Bureaus. They are made of the highest quality materials to achieve the highest quality images in the best way possible. When you purchase a Bookeye, you are purchasing a finely engineered book scanner that will treat your books with the care and delicacy they deserve.
All of the Bookeye® Series book scanners are manufactured in Germany by Image Access. Since 1994, Image Access is a technology market leader developing and delivering innovative large format scanners and digitization solutions to customers based in nearly every country across the globe.
ScanTastik is an Authorized Reseller of Bookeye scanners
Bookeye book scanners are made in Germany and are available for GSA purchase.
Please call us to purchase via GSA.
Don't be fooled by "camera on a stick" overhead book scanners. These scanners typical use 75 dpi CIS cameras and "interpolate" a higher DPI by using software algorythms to estimate the higher DPI results. Bookeye uses 400 or 600 dpi CCD cameras to achieve an exact, high quality image. The 3 line CCD camera captures 22,500 pixels. A 1 MegaPixel camera captures 220 pixels. You would need a 100 MegaPixel camera to equal the CCD camera. You can pay a lot less, and you'll certainly get what you pay for.
Bookeye Gen 5 Book Scanner
V3 Editions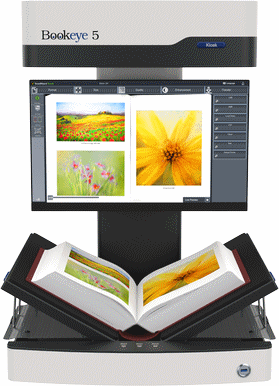 A3 Series
Color overhead book scanner
Scans documents up to 15.3" x 18.9"
400 x 400 dpi resolution (upgradeable)
0.8 Sec. for A3+ Scan @ 150 dpi
21" Touchscreen Monitor
book fold correction
Automatic fingerprint removal
Automatic crop and deskew
Standalone with internal PC
Gigabit TCP/IP Network Interface
Bundles from $9,490
Available in:
Basic, Kiosk or Professional Editions
Bookeye Gen 5 Book Scanner
V2 Editions

V2 Editions
Color overhead book scanner
Scans documents up to 18" x 24.4"
400 x 400 dpi resolution (upgradeable)
1.1 Sec. for A2+ Scan @ 200 dpi
21" Touchscreen Monitor
book fold correction
Automatic fingerprint removal
Automatic crop and deskew
Standalone with internal PC
Gigabit TCP/IP Network Interface
Bundles priced
from $13,990
V1A Book Scanner
Professional Edition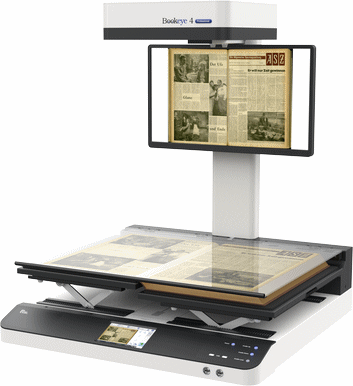 V1A Profession Edition

25" x 34" (A1) Scan Area
Color 600 dpi
Motorized Book Cradle
Bundles from $27,950
V1A-C35 Book Scanner
Thick Book Edition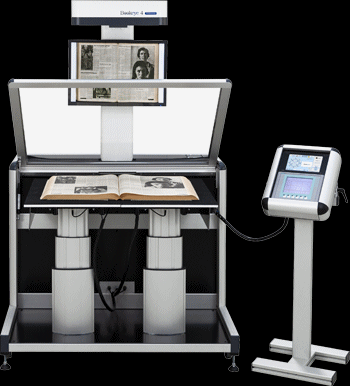 V1A-C35 Edition

25" x 34" (A1) Scan Area
Books up to 14" thick
Color 600 dpi
Bundles from $53,595
Discontinued Bookeye Models