Bookeye 5 V1A-C35/C50 Book Scanner
Scan books up to 25 x 36 Inches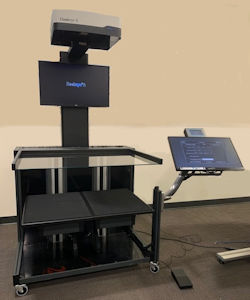 The Bookeye 5
V1A-C35/C50 Book Scanner
Scan books up to 25" x

36"

Up to 13.75" thick (35 CM)
Upgradeable to 50 CM (18.7") thick
Motorized book cradle
Motorized glass plate
Color
Color Bundle Price
$59,990
Click here for more pricing
BE5-V1A-C35-50
Bookeye V1A-C35 Book Scanner Professional Edition
Digitization Excellence and High Productivity
Bookeye® 5 V1A-C35/C50 is the professional solution for digitization projects that require high quality images at maximum productivity, while eliminating strenuous, repetitive tasks required of an operator to get the job done.
Bookeye 5 V1A-C35 scans originals up to A1 in size at high speeds, with the unique book cradle for books 35 cm (13.75 inches) thick. The scanner distinguishes three modes: fixed plate glass, without glass plate and with an automatic opening at 45 degrees.
Together with software packages such as Batch Scan Wizard, BCS-2® and Goobi UCC, even the toughest requirements of a digitization project can be met.