Bookeye 5 V2 Archive Professional Book Scanner
with V-glass plate and self-adjusting Book Cradle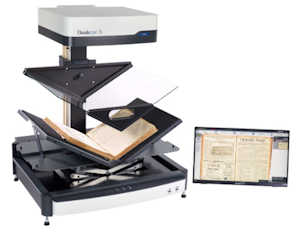 Our most versatile book scanner!
Self-adjusting Book Cradle with V-shaped glass plate.
The V-glass can be interchanged with an optional flat glass plate, or easily removed. The V-shaped glass plate works well with Hard Bound books. The flat glass plate works well on soft bound books, pamphlets and other lightly bound items. The self-adjusting cradle accomodates books up to 3.9 inches thick.
Self-adjusting book cradle
V-Shaped Glass Plate
Optional Flat Glass Plate
Up to 600 dpi scans
1.1 Sec. for A2+ Scan @ 200 dpi
21" Touchscreen Monitor
Dual Line CCD Sensors
FREE ScanWizard scanning software
Automatic book fold correction
Automatic fingerprint removal
Automatic crop and deskew
Standalone with internal PC
Gigabit TCP/IP Network Interface
Bookeye 5 V2 Archive Book Scanner
with Self-Adjusting book cradle
The new, self-adjusting book cradle, which ensures very gentle digitization of books, magazines, posters, folders, or bound documents of all kinds. The unique self-adjusting book cradle solution allows scanning either at a 120 degree angle or in horizontal mode and lying flat with a height compensation of 3.94 Inches (10 cm).
Simple operation, highest productivity. The Bookeye 5 V2 Archive book scanner qualifies as a production system for all challenging digitization projects. Self-adjusting book cradle with V-shaped as well as optional flat glass plate.
Using the latest camera technology from Image Access, this scanner meets FADGI, Metamorfoze and ISO 19264 specifications.