Bookeye 5 V1A Professional Book Scanner
With 25x36 Inch Scan Area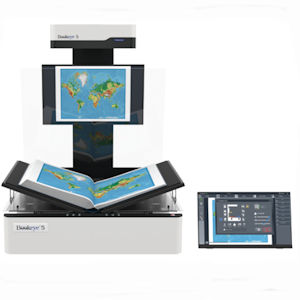 The new Gen. 5 model is now here!
The Bookeye 5
V1A Book Scanner
Scans documents up to 25" x 36"
Motorized Glass Plate
Color overhead book scanner
Up to 8" thick with glass plate, 10" without
600 x 600 dpi resolution
1.5 Sec. for A1+ Scan @ 200 dpi
Book cradle supports up to 70 lbs.
Automatic finger-print removal
180° and V-shaped 140° scanning
Standalone with internal PC
Scanning software included
Gigabit TCP/IP Network Interface
Bundle Price

$44,990
Click here for purchase options
Bookeye5 V1A Professional Book Scanner
Digitization Excellence and High Productivity
The flagship in the Bookeye 5 family of book scanners is the Bookeye 5 V1A book scanner. Scanning A1+ formats at 600 dpi scanner resolution, the Bookeye 5 V1A features a book cradle with up to 8" height adjustment, a motorized glass plate that opens automatically and of course the 140 degree V-book cradle.
Bookeye 5 V1A is the world`s only working A1+ overhead book scanner that accommodates both flat documents - with or without the glass plate; as well as large, fragile bound documents, using the protective V cradle.
In libraries, archives and other public institutions, the Bookeye 5 V1A Kiosk is is suitable for digitization projects that require high quality and maximum productivity even in 24/7 operation.