Bookeye 5 V2 Editions
All of the V2 Editions will scan the same 18x24 inch area and share the same basic features.They will differ only in their advanced features and options.
Color overhead book scanner
Scans documents up to 18" x 24.4"
Dual Line CCD Sensors
400 dpi resolution (upgradeable)
1.1 Sec. for A2+ Scan @ 200 dpi
21" Touchscreen Monitor
FREE ScanWizard scanning software
Automatic book fold correction
Automatic fingerprint removal
Automatic crop and deskew
Standalone with internal PC
Gigabit TCP/IP Network Interface
Bookeye 5 Book Scanner
V2 Editions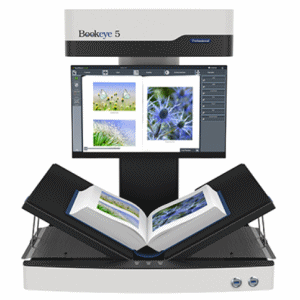 Kiosk Edition
Up to 400 dpi.
Starts at $15,990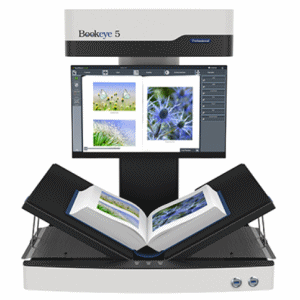 Pro Edition
Up to 600 dpi.
Starts at $19,990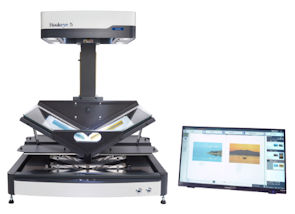 Archive Edition
V-Shaped Glass
-Great for Hard Bound Books
Flexible Book cradle, 600 dpi
Great for Hard Bound Books
Starts at $22,490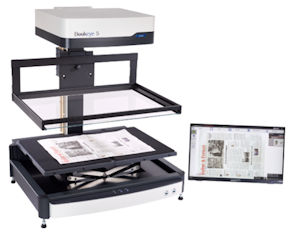 Archive Edition+
with Flat Glass Option
-Great for Soft Bound Books
The V-Glass is also included, they are interchangeable with 1 thumb screw
Flexible Book cradle, 600 dpi
Starts at $23,490
Our most versatile book scanner!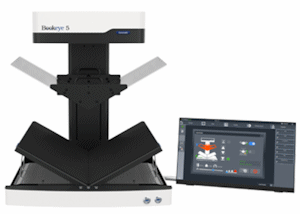 Automatic Edition
Powered V-Shaped Glass
Standard Book cradle
600 dpi
Starts at $24,990
Included Bookeye ScanWizard Software
Imaging Functions
Automatic Focus and Exposure Controls
Automatic Cropping with Page Masking
Automatic Border Recognition and Removal
Automatic Despeckle and Deskew Functions
Automatic Finger Removal
Automatic Book Channel Compensation
Automatic Document Rotation or Mirror
Automatic Page Splitting
Book Fan Removal (no side page edges showing)
Black Border Removal
Punch Hole Removal
Virtual Rescan with Real Time Image Editing
Std. 400 dpi with option to scan up to 600 dpi
Anti-reflection Mode for glossy documents
Scan modes: Fast, High Quality and Anti-Reflective
Real Time Image Enhancement: Brightness, Contrast, Sharpness
Color Removal
Color (8-bit/24-bit), Grayscale, Bitonal, Halftone, Inverted
ICC Profiles are supported and can be embedded in file
Color Space: Native, RGB, Adobe RGB
OCR for single and multipage scanned documents.
Multiple file format outputs