The Canon dr-m260 Scanner
Canon Scanner dr-M260
List Price
$ 1195
Your Price
$ 896

60/120 ipm
Color duplex scanner with
Ultrasonic double-feed detection.
Kofax VRS Pro
Windows TWAIN drivers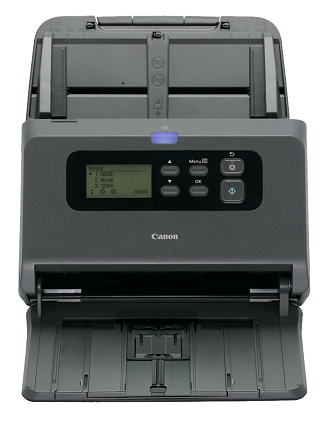 Compare to similar models
Includes a 5 Year Manufacturer Exchange Warranty. Longest in the industry.
Deliver high-speed, powerful performance to the office with the Canon imageFORMULA DR-M260 document scanner. Its user-friendly design, high-quality image processing, reliable item handling, and robust software offer end-to-end options for capturing business information and improving workplace productivity.
A Wide Range of Uses
Optimal for workgroups and departments in any industry—especially in the legal, financial, healthcare, and government sectors—the DR-M260 scanner can assist with efficient records management and help reduce paperwork in paper-intensive environments.
Exceptional Performance
The strength of the DR-M260 scanner is seen in its throughput, capacity, and overall performance. Scanning up to 60 pages per minute—both sides in a single pass—and holding up to 80 sheets in the ADF, it quickly captures and converts paper based documents into usable, digital information.
Easy to Operate Design
The DR-M260 scanner was designed with an accessible Liquid Crystal Display (LCD) panel for user convenience, allowing one to create up to 99 customizable, pre-programmed scan tasks, useful for frequently used scanning modes and output destinations. Scanning status and count can also be reviewed on the LCD panel. For easy maintenance, notifications for errors and roller replacement will appear on the LCD, allowing administrators to tackle any problems before they occur.
Reliable Feeding and Powerful Processing
Capable of scanning up to 60 pages per minute*—both sides in a single pass— with the capacity to hold up to 80 sheets in the Automatic Document Feeder (ADF), the DR-M260 scanner can quickly capture and convert paper-based documents into useable digital information. This scanner can reliably handle an assortment of document types, such as thick, thin, even oversized documents and plastic embossed cards. For an added benefit, optional carrier sheets allow passports with IC chips as well as fragile documents to be scanned through the ADF without corrupting the original documents.
High Quality Scanning
The DR-M260 scanner is equipped with an onboard image processing CPU, making fast, high-quality scanning possible without depending on PC performance. To help prevent paper jams and damage to documents, paper feeding and eject sensors are incorporated to minimize document mishaps. The scanner also incorporates left and right feeding rollers that revolve independently to help prevent skewed feeding when different size documents are scanned together.
Intelligent Software
The DR-M260 scanner is bundled with a suite of convenient software to help widen the scope of capture and output capabilities. Canon CapturePerfect and Kofax Virtual ReScan (VRS) Pro help to increase the overall quality of documents scanned. Canon Capture OnTouch V4 can assist with effortless document organization, with files sorted and saved into existing folders as well as automatically creating new folders.
Convert All Document Types
The new slanted paper path design of the DR-M260 scanner guarantees smooth scanning of a wide variety of documents, from thick documents and multi-sheet forms, to driver licenses and even embossed plastic cards. And Canon's innovative feeding mechanism with its retard rollers will ensure reliable page separation for fast, unattended batch scanning.
File Naming Versatility
Scanned originals can be divided into single files based on bar codes** and counters in addition to blank paper. File names can also be set using text scanned from the document or text that's already configured. The DR-M260 also includes ISIS/TWAIN drivers, which eases integration with third-party capture or content management systems. These features provide the necessary means for a user to convert business information with ease. **optional bar code module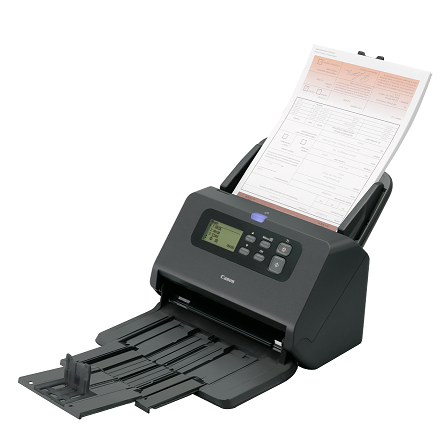 Canon DR-M260 Scanner
Specifications
Type:
Compact Color Document Scanner
Document-feeding:
Automatic or Manual
Document size - width:
2."- 8.5"
Document size - length:
2.13"- 14"
Thickness - Automatic Feeding:
7 to 68 lb bond
Other Features:
Auto Color Detection, Auto Page Size Detection, AutoResolution Setting, Background Smoothing, Color Dropout/Enhance Color, Character Emphasis, Deskew,Double-Feed Release, Feeding Retry, Folio Mode, Long Document Mode, MultiStream, Pre-Scan, Prevent Bleed-Through/Remove Background, Separation Retry, Shadow Cropping, Skip Blank Page, Text Orientation Recognition, Text enhancement,
Ultrasonic Double-Feed Detection, User Preferences
Feeder Capacity:
Up to 80 Sheets
Scanning Element:
Contact Image Sensor (CMOS)
Operating Modes:
Simplex, Duplex, Color, Grayscale, Black and White, Multi-stream
Drop-out/Enhance Color:
RGB
Optical Resolution:
600 dpi
Output Resolution:
150 dpi, 200 dpi, 300 dpi, 400 dpi, 600 dpi
Output Formats:
TIFF, PDF, PNG, JPEG, BMP and PPTX
Bundled Software for Windows:

ISIS/TWAIN Drivers; Canon CaptureOnTouch;CapturePerfect; Kofax VRS Pro for Windows
Scanning Speeds
(LTR- Portrait @ 200 dpi):
Black-and-white:
60 ppm 120 ipm*
Grayscale:
60 ppm 120 ipm*
Color (24 bit):
60 ppm 120 ipm*
Supported OS:
Windows 7, 8 & 10 (32-bit/64-bit), Windows Server 2008, 2012, 2016
Daily Duty Cycle
7,500 scans
Dimensions (H x W x D):
9.09" x 11.22" x 10" (with trays closed)
Power Consumption:
Max. 23 W (Sleep mode 1.4W)
Options:
2D Code Module,Barcode Module, Exchange Roller Kit, eCarePAK exchange Service, Passport Carrier Sheet, LTR size Carrier Sheet
Flatbed scanner unit 102, 201 (11x17)
Examples based on typical settings, rated with letter-sized documents @ 200 dpi. Actual processing speeds may vary based on PC performance and application software.
Canon Warranty

This unit includes a 5 year Advanced Exchange Program warranty
There are no further extended warranty options available.
Some short videos of the dr-m260 in action:



Trade-in your old
scanner and receive up to $200 off of the purchase of a new Canon DR-M260*
*Call us for details
Best Sellers


Canon dr-c225

25/50 ipm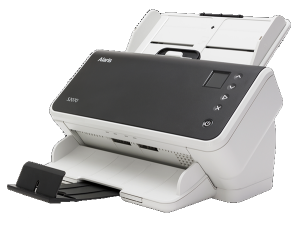 Kodak s2050
50 ppm/100 ipm
3 Yr. Wty.


Fujitsu fi-7160
60 ppm/120 ipm


Panasonic
KV-S1057C
65 ppm/130 ipm
3 Yr. Warranty


Fujitsu fi-7260
Flatbed scanner
60 ppm/120 ipm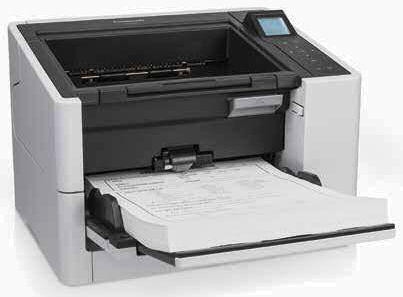 Panasonic
KV-S2087
85 ppm/170 ipm
3 Yr. Wty

Kodak
i3450 w/flatbed
90 ppm/180 ipm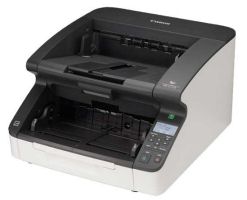 Canon
DR-G2110
110ppm/220ipm
11"x17"scans
Best Sellers