The Canon DR-S250N Scanner
Canon's affordable color, duplex, desktop scanner.
Canon DR-S250N Scanner
Color, Duplex,
Document Scanner
List Price
$895
Your Price
$771
Ethernet Network Interface,
Wi-Fi capable
Operate via Phone, Tablet or PC.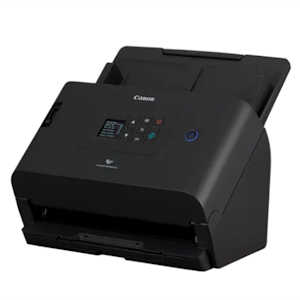 50 pages per minute/ 100 ipm
with Ultrasonic double-feed detection. Can scan in B/W, Grayscale and Color.
Estimated Daily Production is 6,000 scans.
Compare to similar models
The Canon imageFORMULA DR-S250N is a flexible, easy-to-use office document scanner. Built in Wi-Fi®, wired Ethernet and USB connections for networked and local operation allow the scanner to be used with desktop computers, compatible smartphones, or tablets, and shared among multiple users. And the large, user-friendly, color touch-screen makes it easy to select destinations or shortcuts. With the DR-S250N, document information can be converted, processed, and shared efficiently for improved collaboration and productivity.
Note:
To use this model via Wi-Fi or ethernet, you need to download and install the free app on an Android or iOS device and then that device will interface and run the scanner. This is not a "standalone, walk-up and scan" model. You can configure a job setting on a connected PC, and copy that job to the scanner so that the touch screen can then be used to start and run the "job" but the job settings need to be configured on a PC and copied to the scanner....Once the job is there, your good to go. But you cannot edit the job on the scanner. You have to repeat the process describe above. (Most Wi-Fi/Network scanners work this way).