The Canon DR-G2110 Scanner
With USB only, no ethernet port.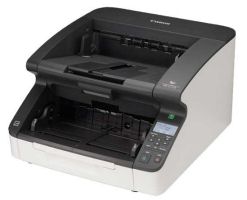 110 PagesPerMinute/220 IPM
B/W, color, duplex speeds (landscape)
Compare to similar models
Free Offer #1:

Purchase a DR-G2090/2110/2140 and receive a free
Canon Flatbed 201 (while supplies last). That's an 11"x17" flatbed - a $1,000 value.

OR

Free Offer #2:

Purchase a DR-G2090/2110/2140 and also receive a free
Canon Power Staple Remover (while supplies last). A $749 value.
You can choose EITHER Free Offer and you do NOT have to trade in your old scanner.
You can also: Trade in your old scanner* for a new DR-G2110. Receive $300 off your purchase or $600 off your purchase if you trade in select Canon or Panasonic models.
*Eligible scanners must be at least 80 pages a minute speed. Call for select models.
There are TWO models: The USB Only, and the USB Plus Ethernet model. The price and specifications are the same except one has one USB and one Ethernet port, the other ONLY has a USB port (for security reasons).
Canon dr-G2110 Scanner
Features
With USB connectivity the DR-G2100 Series scanners provide businesses with a high-performance, reliable, and flexible scanning solution as part of a robust document management system. The DR-G2100 Series scanners are capable of handling a wide variety of document sizes, from business card up to 11 x 17 inches. Flexible paper feed and output guides further enhance the scanners' ability to reliably feed all types of documents.
Wide Variety of Applications
The DR-G2110 scanner is ideal for processing large amounts of documents in mission-critical, centralized production scanning environments. It has been developed to withstand the rigors of production-level scanning while maintaining high-speed, high quality imaging. The DR-G2110 scanner can help businesses improve productivity, maintain continuity, increase efficiencies and securely manage information
High Performance
The DR-G2110 scanner handles up to 110 pages per minute—both sides in a single pass*—and holds up to 500 sheets in the ADF. It is also equipped with a dedicated, onboard image processing chip, making it capable of maintaining fast scanning speeds, independent of PC performance. These features all help contribute to improve productivity
Reliable and Flexible
This scanner is flexible enough to reliably handle a variety of document types, from business cards to ledger-sized documents, long documents, and thin or thick documents,** using its advanced feeding mechanism. This helps reduce labor-intensive pre-sorting and job preparation. Plus, double-feed detection helps to ensure that no data is lost. A durable, solid-body design as well as heavy duty feed and eject trays contribute to the scanner's reliability.
USB Connectivity
This model ONLY has USB connectivity.
Bar Code Software Included
The DR-G2110 scanner now includes the Canon Bar Code software. This software has the ability to:
Can read up to 4 bar codes per page
Separate files by barcode
Name files using barcode data
Create or point a file to a specific folder using the barcode data
Export the file name, path, and date/time stamp as a .csv file
Reads bar code formats:
Codabar, Code39, ITF, Code 128, UPC-A, UPC-E, EAN
Download the manual for the bar code software here
Efficient, Smooth Operation
The DR-G2110 scanner features an intuitive control panel that allows easy access to scanner settings, and user-programmable job buttons for one-touch operation. This scanner is also equipped with a motorized paper feed tray that can be adjusted to the height of the batch, and flexible paper feed and output guides. This, plus the ability to handle a variety of document types,** allows for unattended batch scanning, which can help optimize workflows and increase efficiencies.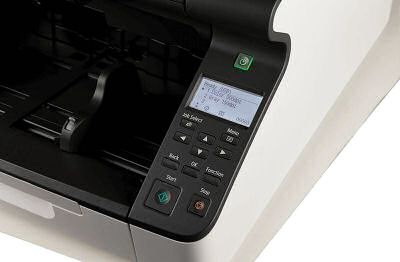 Additional DR-G2100 Series Features
Auto Color Detection
Auto Paper Size Detection
Active Thresholding
Batch Separation
Character Emphasis
Count Only Mode
Custom Color Drop out/Enhance color
Deskew
Text Enhancement
Text Orientation Recognition
Pre-scan Function
Double-Feed Detection
Bar Code Software Included

Three Dimension Color Correction
Adjustable Paper Feed tray
MultiStream file format output
Prevent Bleed-Through/Remove Background
Punch Hole Removal
Rapid Recovery System
Skip Blank Page
Staple Detection
Image Rotation
Kofax VRS Professional Software
Canon DR-G2130 Scanner
Special Features
(These features were on the dr-G1100 series as well)
Improved eject brake for neatly aligned output documents
The scanner's paper ejection mechanism features a new motor with a brake that controls the speed of ejected documents. Scanned documents are neatly stacked in the document eject tray, which saves you from having to take the time to straighten batches by hand.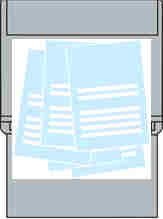 Conventional Scanner
Ejected documents are messy, and must be straightened and aligned by the operator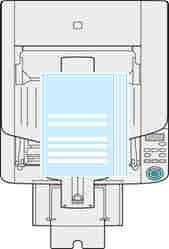 DR-G2110 / DR-G2140
Ejected Documents are neatly stacked by the scanner, so the operator doesn't have to straighten the output batches.
Three Different Paper Feeding Modes to handle different types of paper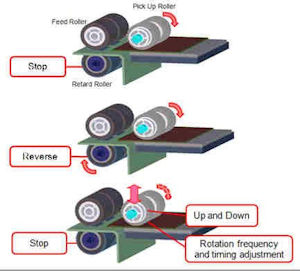 Normal mode: Retard Roller is at a stop to separate the second and later pages
Separation: High <Strong > Retard Roller has reverse torque to push back the second and later pages.
Separation: Low <Soft> Retard Roller is at a stop to separate the second and later pages. Pick Up Roller rotates intermittently not to move the paper fast more than necessarily.
High Volume Feeder with Three Selectable positions

The home position of the motorized paper feed tray can be set to one of three heights according to the volume of a typical batch, which helps minimize the wait time before scanning begins. Each position accommodates up to approximately 100, 300, and 500 sheets, respectively

Convenient control panel for operator handling ease

The scanner's staple detection feature detects when documents are stapled together and immediately halts feeding to prevent damage to the document and/or scanner. The scanner's sensors detect the bent corner of the stapled document, an error message is displayed, and the scanning process is halted.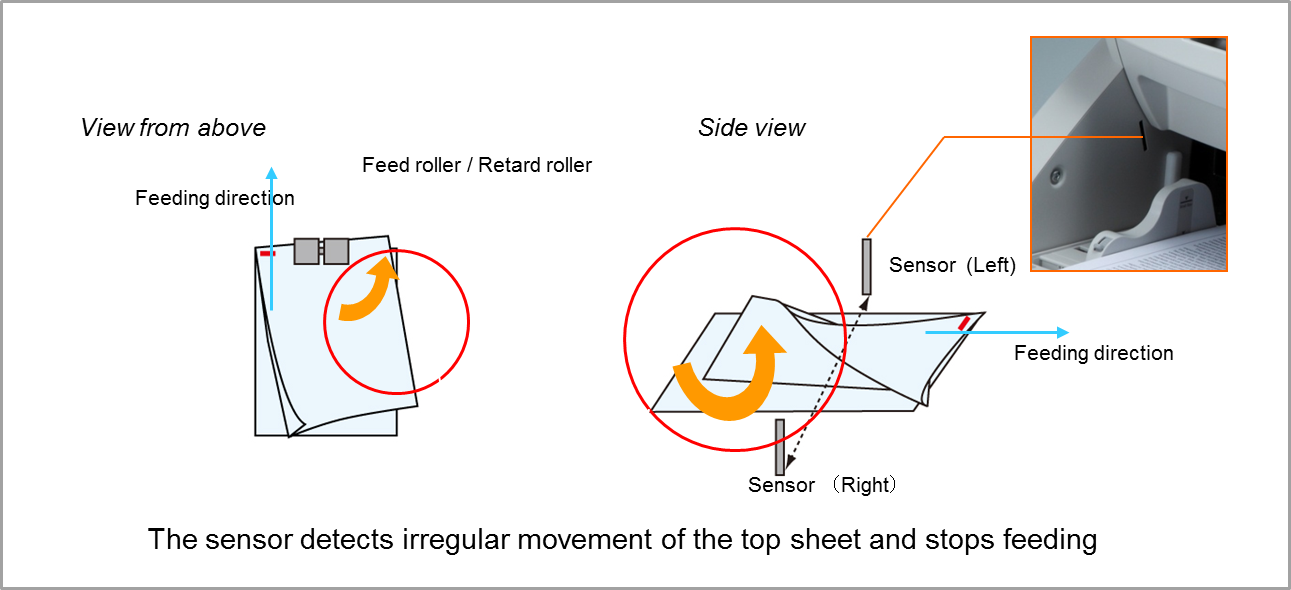 Durable and Easy Maintenance
The DR-G2110/DR-G2140 feature a solid body to handle the demands of production-level scanning. Suggested daily volumes are rated at 50,000/70,000 sheets per day, respectively*. To maintain optimal performance, it is recommended the scanner's rollers be replaced every 450,000 scans and the Separation Pad every 6,000,000 scans. A user-installable Exchange Roller Kit and Separation Pad (sold separately) are available for replacing worn rollers or pad—no service technician is required.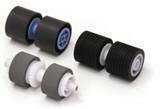 Exchange Roller Kit
(Feed, retard and Pick rollers)

Separation Pad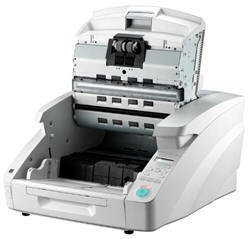 Enter SAVE350 for the
coupon code at checkout

Receive an extra $350 off!