The Kodak i5850 FADGI scanner
Streamlined, 3-star compliant bundles from Kodak Alaris
As of January 1, 2023, all records submitted to the National Archives and Records Administration (NARA) and Library of Congress for permanent archive must be at least 3-star compliant with the Federal Agencies Digital Guidelines Initiative (FADGI). These government agencies will no longer accept paper records. Only digital records will be accepted, and these digital files must meet FADGI 3-star guidelines for text-based documents.
Kodak
i5850 FADGI Scanner
List Price
$95,400
i5850 FADGI Scanning Speeds:
155 ppm 310 ipm
(Portrait: Color, 300 dpi)
i5850 Non-FADGI Scanning Speeds:
210 ppm 420 ipm
(Landscape: Color, 300 dpi)
kodak 1615962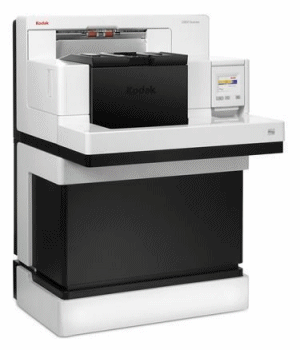 To simplify FADGI compliance, Kodak Alaris has created the Kodak i5250 and Kodak i5850 FADGI-compliant Scanner Bundles. These scanners deliver the specific image quality output set forth in the FADGI guidelines, so you can be assured that all digital submissions to NARA, the Library of Congress, or any future agency, will comply with these requirements.
To set up a trial or to purchase one of the Kodak FADGI solutions,
please contact ScanTastik at 1-800-977-4935.