Most Popular Kodak Scanners
For virtually trouble-free operation, nothing surpasses the family of document scanners from Kodak, the industry leader in production scanning. Whether you need to scan 30,000 or more documents every day or 30 documents in the shortest time possible, there's a scanner with the volume capacity and speed to support cost-effective processing for you.
Kodak Alaris e1040 scanner
Coming Soon!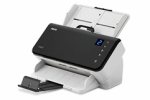 Speed: 40 ppm/80 ipm
Daily Duty Cycle: 5,000 pages
$576
Kodak Alaris s2050 Scanner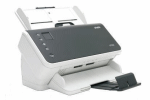 Speed: 50 ppm/100 ipm
Daily Duty Cycle: 6,000 pages
$931
Kodak s2085f Scanner
250 Page ADF Feeder
11"x17" Scanning
Speed: 90 ppm/180 ipm
$3217
Kodak S3120 Max Scanner
500 Page Feeder
Daily Duty Cycle: 60,000 Pages
Speed: 120 ppm/240 ipm
$7110
Kodak i4250 Scanner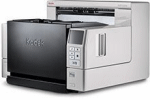 500 Page Feeder
Daily Duty Cycle: 65,000 Pages
Speed: 110 ppm/220 ipm
Hi-def Cameras
$13,000
Kodak i5250 Scanner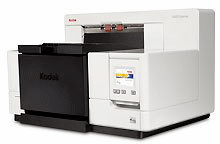 750 Page Feeder
Daily Duty Cycle:
Unlimited
Speed: 150 ppm/300 ipm
Hi-def Cameras
$36,000