HP Scanjet Pro N4000 snw1 scanner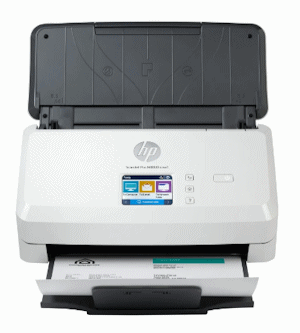 Scan Speed:
Up to 40 ppm/80 ipm
ADF capacity:
50 sheets
DDC:
4,000 Scans per day
Plus:
2.8" Color Touchscreen
The HP Scanjet Pro
N4000 snw1 scanner
List Price
$650
Your Price
$519
On backorder for months now

Compare to similar models
MPN: 6FW08A#BGJ
Fast, affordable, and designed to handle everything from simple color jobs to complex workflows. Quickly and reliably digitize larger projects with scan speeds up to 40 ppm/80 ipm and a 50-page ADF. Recommended for 4,000 pages per day.
This will connect wirelessly to a network, wired network, output to usb or scan via usb to a computer. It will scan to cloud, SMB, print and email. It will NOT prompt you to name the file, as it auto-names each file. Settings are configured and saved to scanner via web browser. Pre-select the job button and scan at the scanner. The job is not configurable on the scanner.