130 pages per minute/260 Images per minute
The Fujitsu fi-6800 scanner offers best-of-breed technology and has been tailored specifically for high volume applications. Combine a rated speed of 130 ppm (Simplex) and 260 ipm (Duplex), both high-speed USB 2.0 and Ultra Wide SCSI interface connectivity. Options including Kofax VRS software as well as three Ultrasonic double feed sensors and you have the ideal scanner to quickly and efficiently transform piles of paperwork into usable electronic data.
Fast, 130 ppm / 260 ipm scanning in monochrome and color
Triple Ultrasonic Double Feed Detection
500-page automatic document feeder and low profile, space saving design
New Functions for enhanced automation, power efficiency and productivity:
Automatic sorting
Automatic stacking
Automatic image cleanup with PaperStream IP drivers (TWAIN & ISIS)
Ultra Wide SCSI, USB 2.0, connectivity
Includes Paperstream IP and Paperstream Capture
Enhance productivity with Fujitsu service and support
Blazing Speed Finer Images.
Combine a rated speed of 130 ppm (Simplex) and 260 ipm (Duplex), true 600-dpi optical resolution, dual-CCD scanning arrays and a black/white switchable background offer maximum flexibility with a wide variety of applications to achieve outstanding image quality.
The scanner fits the bill in demanding environments such as service bureaus, backfile conversions or many other paper-intensive industries delivering a daily duty cycle of up to 60,000 sheets (fi-5900 is 100K per day) and consumable life of 600,000 sheets.
The 500 page capacity feeder and document stacker flawlessly feeds your documents and then returns them to a neat stack for easy processing. The feeder's design can handle a variety of document types and sizes from A7 to A3. For smaller batches, the feeder can be configured to have smaller capacities of 250 or 500 documents.
The 500 page automatic document feeder (ADF) accommodates a wide range of documents sizes from 2.07" x 2.91" to 12" x 17" with long document scanning capability of up to 120".
Production Scanning has never been easier
The fi-6800 Production Scanner was built to perform but it doesn't end there. Making Production Scanning easy is one of the main appeals of the fi-6800. Even before scanning begins, the scanner operator can simply set a few user operator preference options directly from the LCD Operator Panel such as language, alarm volume, blink cycle, contrast and other options so that scanning is performed in their ideal comfort-zone. A large 500 page automatic document feeder ensures that processing volumes of batches can be done quickly without constantly reloading the paper input tray. Three Ultrasonic Double-Feed Detection sensors with Intelligent MultiFeed Function (iMFF) ensure that each image is captured without exception by detecting when two unintentional documents enter the feeder at the same time, yet affords the flexibility to capture intentional overlapping items such as sticky-notes attached to documents. Independently adjustable side trays makes input of batches easy and extremely efficient and controlled paper output speed with an Active Stacker helps keep the documents neat and orderly when returning batches to storage boxes or cabinets.
When additional connectivity, flexibility or functionality is required, rest-assured that as the industry-leading document scanner provider, Fujitsu is constantly working with, or already has certified, hundreds of third-party software applications.
Intuitive LCD operator panel (Multilanguage, Alarm Sound, Volume, Contrast and more)
Space-saving design and quiet operation for office environments
Independently adjustable side input guides and Active Stacker
Large capacity 500 page automatic document feeder
PaperStream IP (32/64 Bit)
The PaperStream IP driver takes the work out of image cleanup when scanning invoices, ID cards, receipts, forms, or any other day to day paperwork. PaperStream IP automatically improves the image quality, removes unwanted backgrounds, and optimizes your scanned images for optical character recognition. It is fast and easy to use. Our latest innovation, Assisted Scan, allows users to replace poor images by visually selecting the image they lack rather than learning driver settings. If driver settings need to be adjusted for rare and difficult documents, our preview function allows scan operators to see their adjustments in real-time without time consuming re-scans. PSIP works with both ISIS and TWAIN applications.
PaperStream Capture (PSC) makes advanced capture with Fujitsu scanners easier than before. PaperStream Capture has a streamlined User Interface to reduce training time and increase productivity. Not only have we provided users with the most common profiles used by customers—black and white, color, and auto-color—new profiles are easily created or modified through a wizard. We have organized the release screen so that batches can easily be suspended or continued. PSC is also integrated with PaperStream IP's assisted scanning for visual cleanup of documents. The reading of barcodes and patch codes make batch separation easy, improving document organization.
Whether the infrastructure is fixed or expanding, managing technology efficiently inside the organization is key to reducing total cost of ownership and the Fujitsu fi-6800 scanner provides system administrators with advanced software tools to centrally manage the scanner more productively and cost effectively.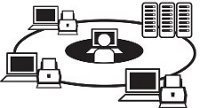 Agent, console and server remote scanner management
Real-time Fujitsu scanner inventory
Status and alert monitoring
Centralized driver update deployment
Consumables management
The fi-6800 scanner can be upgraded with a pre or post scan, imprinter option.