WideTEK 12
12.5" x 18.5" Professional Flatbed Scanner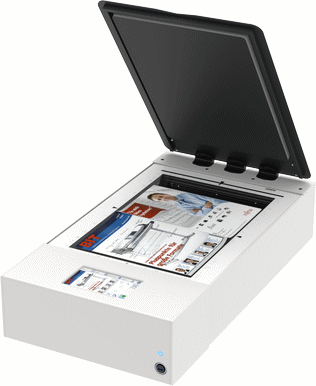 Scan Area 12.5" x 18.5"
High Color CCD Cameras
WideTEK® 12 Flatbed Scanner
Professional Color Flatbed Scanner
The WideTEK 12-650 is available for applications where A3+ is large enough but fast scanning speed and high optical resolution is required. The scanner needs less than three seconds to scan the largest format of 12.5 x 18.5 inches in normal mode at 300 dpi and only 12 seconds in 3D mode at 600 dpi, twice as fast as the closest competition.
WideTEK® 12 delivers high resolution color, black and white or grayscale images in jpeg, tiff, pdf and most other standard image output formats. It combines production ready design and uniquely compact dimensions in a new class of professional but affordable scanners.
The new scratch resistant, non-reflective glass plate has been expanded to reach the edges of the scanner, making it 100% protective of the documents laid on it. No more bent or folded edges on your source documents.