WideTEK Scan Wizard
Scanning Software for WideTEK scanners

Scan Wizard is FREE and included inside the scanner on it's PC. The Scan Wizard software controls the scanner directly through the scanner's Touch Screen, or the external Touch Screen or through a browser on your PC. Scan2Net is a PLATFORM for other softwares to run on, like Scan Wizard, Batch Scan Wizard and Scan2Pad.
ScanWizard is a simple and intuitive user interface for your Scan2Net® scanner, which can be accessed using any standard web browser, an external HD touchscreen or the touchscreen on the scanner itself. ScanWizard is operating system independent and requires no installation of any kind on the user´s client PC since it is built right in to the scanner. Once your network administrator has assigned the scanner an IP address and installed it in your network, any user can access the scanner and operate it using ScanWizard.
ScanWizard can used together with the (optional) PrintWizard functionality to make your scanner and any connected printers into an image management center, better than just a printer-centered MFP. Using ScanWizard with PrintWizard allows you to define your workflow with your own scanner, printer and folding parameters. You can control where your work goes -- to which folders and how your work is output -- on which peripheral devices.
Batch Scan Wizard is a different, optional software. BSW is installed on a PC. The scanner is always installed as a network scanner (it does NOT connect via a cable to the PC.) The software then runs the scanner through your browser. (You open the browser and then type in the IP address of the scanner). BSW software is designed for production scanning. Multiple jobs, multiple index fields, auto file naming and more features that are needed when scanning large numbers of documents with additional requirements. More information on BSW is here.
Scan Wizard comes installed on the scanner itself. This free software is used to run the scanner through the scanner touch screen or with the Touch Screen Monitor. ScanWizard is designed for one scan at a time, not production file naming, indexing, multiple folder output and the other features of BSW. You can save your settings of course, but each file is a "save as" type of scan.
WideTEK Scan Wizard
Features
Controls all scanner functions.
Supports multiple users, multiple jobs and tasks.
Runs on any browser with Java script enabled.
Identical look & feel on WinX, Mac, Linux platforms
No need to install drivers, cards or anything else.
Supports all WideTEK Wide Format and flatbed scanners
WideTEK Scan Wizard
Functions
Automatic document width and position detection.
Crop and deskew operations, even on long documents.
Virtual rescan to change scan parameters on the fly without having to rescan.
Compilation of bound documents or collections of scanned images using job mode.
OCR for single and multipage scanned documents.
Output file formats using templates:

AutoCAD DWF
Jpeg 2000
PSB (Photoshop Big)
PCX
Postscript / Encapsulated Postscript
JBIG
DjVu
DICOM
Raw Data

Advanced image enhancement features such as finger, book fan, punchhole and black border removal.
Single scan and job mode masking to define regions which will be saved as a separate image.
On the fly image splitting, rotation, mirroring and inverting.
Connecting Scan2Net® scanners is a snap. Simply connect power and an Ethernet cable directly to a PC or to your organization´s network, assign a valid IP address to your Scan2Net® scanner, start your browser and the build-in ScanWizard or use the touchscreen and scan. It´s as easy as that!
An intuitive menu leads the operator quickly to the desired feature or function. Select document size and file format, image orientation, output mode, color mode; press the start button and scan. If the settings aren´t exactly what you wanted, modify the settings for optimal results without needing to rescan the document.
Scan2net can scan to many locations. View the choices list below: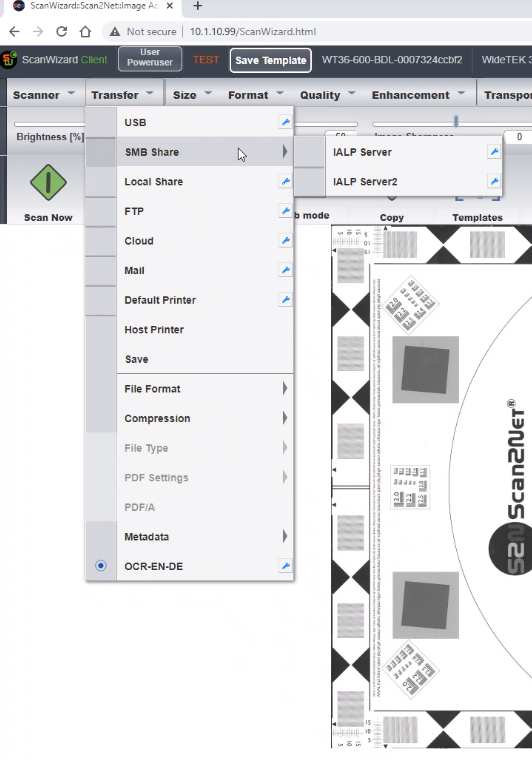 A close-up of the Scan2Net Toolbar: