WideTEK PrintWizard
Printing Software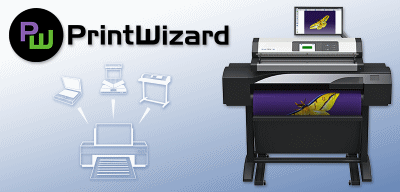 The PrintWizard is an extension to the ScanWizard software and converts every WideTEK© scanner to a powerful MFP system by adding the printer of your choice. PrintWizard maintains full control of all features of the attached printer, even paper properties or the level of available ink are visible without having to physically access the printer.
PrintWizard allows the user to define and manage workflow with individual scanner, printer and folding parameters all on one device, the scanner. Using presets and templates, PrintWizard provides the operator with a complete image control and job management system without the need for additional software or two separate configurations on the scanner and on the printer.
Templates
ScanWizard and PrintWizard each have five predefined scanner and printer templates which help the less experienced user to pick the right settings. The settings defined by the templates as well as their names can be changed and new templates can be added to suit other applications.
Copy Button
The copy button is also freely configurable and allows a single button copy function, using any one of the templates. This makes copying a set of large documents a simple task for everyone.
PrintWizard Print Modules are $600 each. Please us call to order
PrintWizard LFP Option
Canon imagePROGRAF 650, 655, 670, 671, 680, 681,685, 686, 710, 720, 750, 755, 760, 765, 770, 771, 780, 781, 785, 786, 810, 815, 820, 825, 830, 831, 840, 841, 850, 851, 6400, 6410, 6450, 6460, 8400, 8410, 9400, 9410, 6300S, 6400S, 6410S, 8300S, 8310S, 8400S, 8410S, 9400S, 9410S, 6400SE, 6410SE, 8400SE, 8410SE.
Canon imagePROGRAF PRO-500, PRO-520, PRO-540, PRO-540S, PRO-560, PRO-560S, PRO-1000, PRO-2000, PRO-4000, PRO-4000S, PRO-6000, PRO-6000S
Canon imagePROGRAF TM-200, TM-205, TM-300, TM-305, TM-5200, TM-5205, TM-5300, TM-5305, TX-2000, TX-3000, TX-4000, TX-5200,TX-5300, TX-5400
PrintWizard HP Design Jet Option
Generic HP DesignJet, HP DesignJet T120, HP DesignJet T520 / 24 Inch, HP DesignJet T520 / 36 Inch, HP DesignJet T730, HP DesignJet T790, HP DesignJet T795, HP DesignJet T830 MFP / 24 Inch, HP DesignJet T830 MFP / 36 Inch, HP DesignJet T920, HP DesignJet T930, HP DesignJet T1300, HP DesignJet T1500, HP DesignJet T1530, HP DesignJet T1700, HP DesignJet T1700dr, HP DesignJet T2500 MFP, HP DesignJet T2530 MFP, HP DesignJet T3500 MFP, HP DesignJet T7200, HP DesignJet Z2100, HP DesignJet Z2600, HP DesignJet Z3200 / 24 Inch, HP DesignJet Z3200 / 44 Inch, HP DesignJet Z5200, HP DesignJet Z5600, HP DesignJet Z5400, HP DesignJet Z6200, HP DesignJet Z6600, HP DesignJet Z6610, HP DesignJet Z6800, HP DesignJet Z6810 / 44 Inch, HP DesignJet Z6810 / 60 Inch, HP DesignJet Z6 / 24 Inch, HP DesignJet Z6 / 44 Inch, HP DesignJet Z6dr / 44 Inch, HP DesignJet Z9+ / 24 Inch, HP DesignJet Z9+ / 44 Inch, HP DesignJet Z9+ dr / 44 Inch, HP DesignJet HD Pro, HP PageWide XL 4000, HP PageWide XL 4100, HP PageWide XL 4500, HP PageWide XL 4600, HP PageWide XL 5000, HP PageWide XL 5100, HP PageWide XL 6000, HP PageWide XL 8000
PrintWizard TDS Option
Océ PlotWave System:,300, 340, 345, 350, 360, 365, 450, 500, 550, 750, 900
Océ ColorWave System: 300, 500, 550, 600, Océ ColorWave 600 Poster Printer System, Océ ColorWave 650 System, Océ ColorWave 650 Poster Printer System, Océ ColorWave 700, 810, 900, 910 System. Océ ColorWave 3500, 3700, 9000 System
Print Wizard Epson SureColor Option
Epson SC-P60x0 Series, Epson SC-P70x0 Series (K3 ink set), Epson SC-P70x0 Series (Violet ink set), Epson SC-P80x0 Series, Epson SC-P90x0 Series (K3 ink set), Epson SC-P90x0 Series (Violet ink set), Epson SC-P100x0 Series, Epson SC-P200x0 Series, Epson SC-T32x0 Series, Epson SC-T52x0 Series, Epson SC-T52x0D Series, Epson SC-T72x0 Series, Epson SC-T72x0D Series