WideTEK Adjustable Scanner Stand

The new WideTEK® stand is a fully adjustable stand that works with printers of any width and up to 46.5" high. The height of the stand can be lowered to 34.5" if desired. Two models, one for the Widetek 36 inch scanners and one for the 44 and 48 inch scanners are available. The scanner, when mounted to the stand, can be moved closer to the front by using its sliding rails that also lock. The design is not only extremely stable it can also hold the power supply, a network switch and a power extension bar and hide them from view in the back of the lower crossbar.
WideTEK Adjustable Stand
Features
Most versatile MFP stand in the industry.
Supports any width printer, up to 46.5" high.
Fast copy to HP, Canon, Epson and Océ printers
Sits against a wall, leveled via adjustable feet.
Slightly angled forward for convenient access by operators
The lock and release slide rail mechanism allows the scanner to be moved forward to the operator for easy access.
Easy storage of power supply and cables behind the crossbar.
Supports WT36CL, WT48CL, WT36CL-MF, WT36, WT44, WT48.

WideTEK 36 Inch Adjustable Stand

WideTEK 48 Inch Adjustable Stand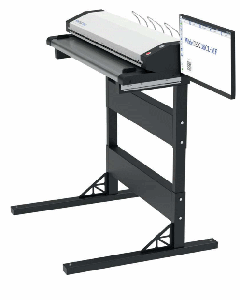 Shown with 36CL Scanner, Monitor.
(not included)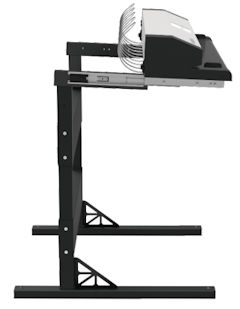 Shown with scanner extended forward
Adjustable Stand with Wide Format Printer - An MFP Solution