Contex HD Ultra X 6050
60 Inch Large Format Scanner
The world's fastest
CCD Camera
Large Format Scanner!
Scans at up to 17.8"
Inches Per Second (IPS)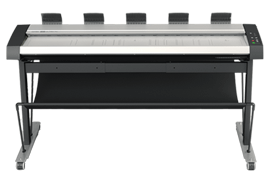 Stand and software sold separately. Please check the pricing tab below for those.
HD Ultra X 6050
60 Inch Scanner
List Price

$16,350
Sale Price
Includes $1750 Firmware Activation License

Lease purchase financing with monthly
payment plans available. Details here..
MPN: 6700G503
Call ScanTastik @ 1-800-977-4935 if you need a formal quote
or use our
Request A Quote
form
Select a 60 inch scanner that
can take up to A0+ / E-size+ landscape documents
With uncompromising image quality standards, the Contex HD Ultra X 6000 Series scanners are designed for high-volume productivity for businesses-critical imaging tasks. Whether you are a private business, government or print-for-pay, an HD Ultra X 6000 scanner is the right solution for improved efficiency and productivity.
Artwork, maps and other color- and detail-rich documents are reproduced to perfection, without any document length limit. You don't have to scan the material in several parts and then stitch the images together afterwards. You have a consecutive processing of any number of scans, and software settings you can personalize to ensure the same scan, copy and color settings every time.
A combination of 48-bit color, 4-channel CCD technology, full-size professional camera lenses and advanced image data processing algorithms creates a superior image quality. With image processing performed inside the scanner, your PC is free to run software applications more efficiently. The Contex HD Ultra X 6000 wide format scanner is fast and steady with up to 17.8 inch/second scanning speeds. Truly a workhorse that can handle very large originals with speed and ease. The HD Ultra X gives you a great performance and a high return on your investment.
Various media and thickness
Do you have thick, mounted or other sensitive or specialized documents? No problem. Optimized Thickness Adjustment Control (OTAC) technology lets you adjust the scanner to scan documents up to 0.6" (15 mm) thick and monitors pressure on the document surface. The Ultra X Series scanner will also detect the width of you document too.
60 inch ultra-wide design captures oversized documents easily
48-bit color and 16-bit grayscale image data capture from 4-channel CCD technology with lenses from Fujifilm
Exceptional ultra wide productivity, scanning over 1,000 Arch E-size color documents per hour
Scan-to-Net function for scanner sharing over a network, and sending files to remote PC's
All Wheel Drive (AWD), a precision paper feed tracking system, ensures a perfectly straight scanning path and distortion-free scans
Includes 2 year parts warranty, upgradable to onsite.
Contex HD Ultra X 6000 Series Scanners
A 60" Wide Format Scanner
There are two 44" models. Each model scans in Black & White or Grayscale at the same speeds. The ONLY difference is the scanning speed in color and the price.
HD Ultra X 6050 model*

Speed
B/W: 17.8 IPS
Color: 8.9 IPS
List Price
$16,350
*Above pricing does not include software or stand.
OUR PRICES INCLUDE SCANNER ACTIVATION LICENSES !
An activation license can cost between $200 to $4,500, depending on the model.
If you would like to have a 21.5" Touch Screen Monitor and keyboard setup
please look at the
ScanStation Pro
version
Call ScanTastik @ 1-800-977-4935 for pricing
or use our
Request A Quote
form
Common Specifications
for the HD Ultra X 6000 Scanners
Maximum Scan Width
60 inch
Maximum Media Width
62 inch
Optical Resolution
1200 dpi
Maximum Resolution
9600 dpi
Maximum Media Thickness
0.6 inches (15mm)
CCD Cameras
7 x 4 linier color CCDs (R,G,B and Gray)
Accuracy
0.1% +/- 1 pixel
Data Capture (color/mono)
48-bit/16-bit
Color Space
Adobe RGB, Device RGB, RAW RGB, sRGB
Interface
USB 3.1 GEN1 with xDTR
Gigabit Ethernet
Network workflow
Pull / Push
Key Technologies
FlexDoc, FlexFeed, SnapSize, SmartShare, ALE (Accuracy Lens Enhancement), AccuColor, OTAC, Perfect Light, Static Free Touchless Glass System
Software
WIDEsystem (driver): Nextimage 5 iOS app (portable device)
Android tablet/phone OS also
File formats
Big TIFF, TIF, JPG, PDF, PDF/A, DWF, CALS, BMP, JPEG-2000(JP2), JPEG2000 Extended(JPX), TIF-G3, TIF-G4, multi-page PDF and others
Device Drivers
Windows 10, Windows 8.1-32 and 64-bit,
Nextimage, TWAIN
64-bit TWAIN application driver included for use with EDM and other imaging software
Power
110/220/240V, 60/50Hz, 80w
Weight & Dimensions
LxWxH
173.8 lbs, 71.2 x 21 x 11.0 inches
Certifications/compliance
RoHS, cUL, CE, Customs Union, CCC, VCCI, KC, Ukr, ENERGY STAR certified
TAA compliance
TAA compliant scanners are for US customers only and are assembled in Denmark UPON REQUEST
*Scanning speeds depend on document width and computer configuration
Contex recommends Intel Core Duo, Core 2 Duo,or better processors, 8GB RAM + Fast-disk. Speed tests performed using Nextimage software, PC with Intel Core i7 4770K 3.5 GHz ,16 GB RAM, SSD - 1TB, USB 3.0 SuperSpeed and Win 64-bit.
Warranties for the HD Ultra X Series
The Ultra X Series includes a 2 Year Parts Warranty. The parts are free, but you must repair the scanner yourself. If you would like a Contex certified technician to come onsite and repair your scanner, you should upgrade to a Two Year Onsite Warranty.