MFP Repro Solution
featuring the IQ Quattro X Series
Turn all your large format printers into powerful MFP Repro solutions

Fits all leading large-format printers
An MFP Repro solution from Contex can turn any new or existing printer into a copier, giving you the small footprint you need without compromising on performance and versatility.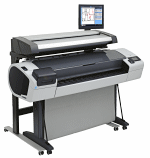 The Contex MFP Repro bundle includes an IQ Quattro X Series scanner, a 21.5" Touch screen, a high (or low-same price) adjustable stand, and the full version of Nextimage Repro software.
A PC is required (not included).