Contex HD Ultra Series
42" Large Format Scanners
These models have been discontinued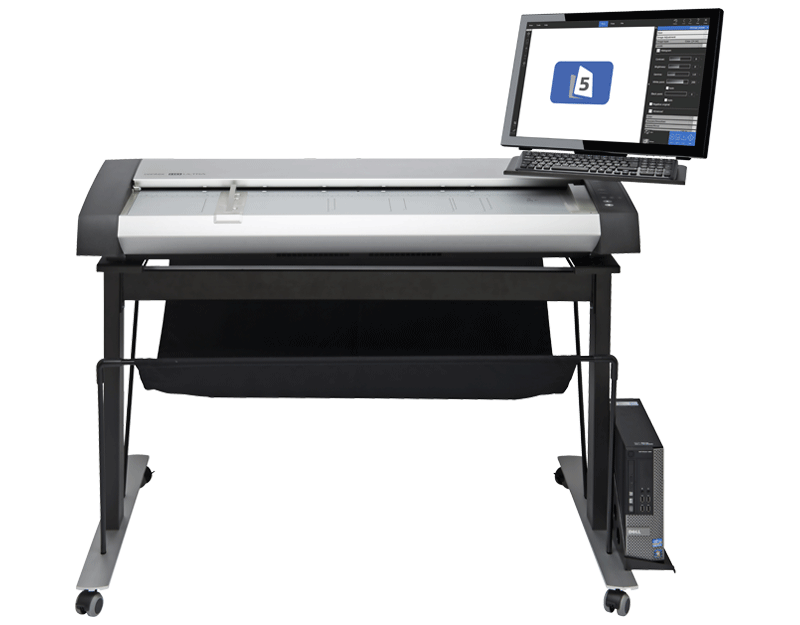 Shown with the Optional ScanStation Pro Kit
Superior technology for your large-format
HD Ultra is available in 36-inch and 42-inch scan widths and designed for all types of workflow and projects. This scanner meets the need for heavy use, automation, careful handling of fragile and thick originals and so much more. The scanner can scan, copy, file and archive large format images, drawings and documents with impeccably high color accuracy.
As well as great image quality, with the HD Ultra, you also get other useful benefits like the electronic Automatic Thickness Adjustment Control (ATAC) top-lid system and user-configurable keypad functions. HD Ultra can adapt to any high-pace environment – effortlessly.
All the Contex HD Ultra models include a 2 year Parts warranty.
Scan your documents three times faster and enhance the file in
AutoCAD, ESRI and other document workflows
The new HD Ultra delivers the best quality image in the world today. No matter whether you scan maps, drawings, posters or fine art, you'll always capture every detail, on the first try. Designed to meet the needs of technical experts, graphic professionals and reprographics departments, the new HD Ultra is simply the best large format scanner available. Choose between 36 or 42 inches width, each in three different configurations to fit your needs for productivity and image quality. A space-saving MFP version is also available.
The ultimate standard for your digitizing needs
With Contex-enhanced CCD imaging, archiving and productivity-boosting features, you get best-in-class image quality and the fastest and most efficient way to scan, copy, file and archive wide format images, drawings, documents and records.
Productivity accelerates
business workflows
The HD Ultra is built for productivity, and the key to productivity for high-volume applications is speed. Not just "inches per second" but actual throughput. Able to scan three times as many documents in a day as any other scanner and designed to improve document management, the new HD Ultra is all about helping you win projects, boost productivity and lower costs.
Fits in your digital workflow
Compatible with AutoCAD®, ESRI® and other software and printers like HP, Canon, Epson etc., the HD Ultra is astonishingly versatile. Automated paper thickness control, intelligent document size detection, and the ability to handle challenging documents effortlessly mean you can just keep scanning, boosting productivity, winning new business, and ensuring a fast return on your investment.
MFP version available
Our multifunction high-stand option for the HD Ultra turns your large-format printer into a high quality copier while saving space.
Up to 9600dpi high resolution scanning
Upgradable to 8 inches per second color scanning (17.8 on the 60")
Programmable One-Touch buttons – common tasks can be assigned to 3 simple buttons
Exceptional productivity, scanning up to 620 E-size documents per hour
User upgradable – Need color? More speed? Higher resolution?
Nextimage 5.0 – powerful sharing, archiving, and copying in one application
All-Wheel-Drive (AWD) for a perfect grip on your documents
ENERGY STAR compliant
Includes 2 year parts warranty, upgradable to onsite repair
Key technologies in Contex HD Ultra series scanners
As the world's largest developer and producer of wide format imaging solutions, Contex leads the market with innovative technology and advanced scan and copy software solutions. The HD Ultra series of scanners utilizes a long list of key technologies unique to a Contex scanner.
CCD technology
The HD Ultra series scanners captures all details with advanced 48-bit CCD technology. By combining CCD with Contex Natural Light and high quality camera optics you are ensured the best possible results in every scan.
Full 48 bit workflow
To get the best results, your scanner and software should work with full 48-bit data. Where other scanners ignore some of this data, the HD Ultra is the world's only wide format scanner with true 48-bit scanning.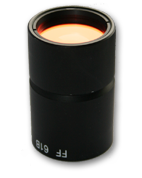 Fujifilm lenses
Like photography, scanned image quality depends heavily on lens quality. Using lenses that are specifically designed for the scanning resolution will ensure against various problems, from uneven sharpness to chromatic errors and color fringing (black lines show up in color). This is why Contex uses custom Fujifilm lenses in all CCD based scanners.
X-Rite ICC profiles
Using X-Rite generated profiles ensures the highest possible color accuracy for the demanding customers. X-Rite is the global leader in color science and technology.

Adobe RGB, Device RGB and sRGB
Contex HD Ultra scanners have several different options for color space. In addition to the common sRGB the HD Ultra also offers color spaces with wider gamut as preferred by color specialists. Adobe RGB and Device RGB has a larger color gamut than sRGB, hereby allowing differences in very bright and saturated colors to be maintained in the file.
Contex Natural Light
The light source is custom fluorescent with a high Color Rendering Index (CRI > 95) to produce the most accurate colors possible. The CCD itself is high resolution and capable of capturing 48-bit color, but Contex have the unique ability to process the entire 48-bit color data - resulting in the most accurate color images you can get from a scanner today.
xDTR2
Delivering 3 times the bandwidth of USB 2, our unique Gigabit Ethernet implementation with xDTR2 is lightning fast and accelerates workflows even further via network sharing, where scans can be controlled from any computer.
HD Ultra 42" Series Prices
HD Ultra i4250s

Color: 4" IPS
Scan width:42"
List Price
$8995
HD Ultra i4290s

Color: 8" IPS
Scan width:42"
List Price
$9995
All HD Ultra Models scan in Grayscale or
Black/White @ 12 IPS (inches per second)
OUR PRICES INCLUDE ACTIVATION LICENSES AND FREE SHIPPING!
An activation license can cost between $500 to $4,500, depending on the model.
Prices above do NOT include scanning software or stand.
Please see the accessories tab for those items.
Common Specifications
for ALL the ULTRA Series
Maximum Scan Width
36 in. on the 36xx Series
42 in. on the 42xx Series
36xx Series are field upgradeable
to 42" scan width capable
Maximum Media Width
44 in. (1120 mm)
Optical Resolution
1200 dpi
Maximum Resolution
9600 dpi
Maximum Media Thickness
0.6 in. (15mm)
Accuracy
0.1% +/- 1 pixel
Data Capture (color/mono)
See Table below
Network Workflow
Pull / Push
Color Space
(for color enabled models)
Adobe RGB / Device RGB /
RAW RGB / sRGB
Interface
USB with xDTR
Gigabit Ethernet with xDTR2
File formats
TIF, JPG, PDF, DWF, CALS, BMP, JPEG-2000(JP2), JPEG2000 Extended(JPX), TIF-G3, TIF-G4, others
Device Drivers
64-bit Windows 10, 8, 7, and Vista
TWAIN
TWAIN drivers available for use with EDM and other imaging software.
Power
USE / Requirements
110/220/240V,60/50Hz, 80W
Weight & Dimensions
LxWxH
48 kg, LxWxH: 52.8 x 18.7 x 7.9 inches (134 x 47.5 x 20 cm)
Certifications/compliance
RoHS, UL, CE, GOST-R, CCC, VCCI, KETI, BSMI, ENERGY STAR compliant
*Scanning speeds depend on document width and computer configuration
Contex recommends Intel Core Duo, Core 2 Duo, or better processors, 2GB RAM, Hi-speed USB2.
Speed tests performed using Nextimage software, PC with Intel Core i5-2500 Quad processor, 8GB RAM, Hi-speed USB2, 7200rpm HDD, Windows 7 64-bit Ultimate.
Both the 36" and 42" HD Ultra Models use the same "base machine". The configuration on the scanner is program based and will be "unlocked" depending on which model you purchase. Scan Area, Speed, and Color are your 3 (x3) variables.
HD Ultra 42 Series Model/Speed Comparisons
Scanning Speed* (inch/sec.): Scanner speed while scanning 36-inch wide document.
Upgradeable to 4" per sec/Color
Upgradeable to 8" per sec/Color
200 dpi
Grayscale
Monochrome
Productivity* (documents/hour): Batch scanning for 60 minutes. Includes paper load and eject time. Measured in completed scans.
Arch E-size, RGB Color, 200dpi
Arch E-size, Monochrome, 200dpi
620
620
A0-size, RGB Color, 200dpi
A0-size, Monochrome, 200dpi
642
642