The Canon DR-M160 Scanner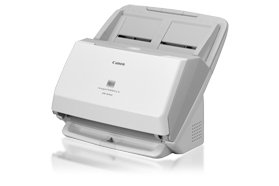 60 pages per minute
120 images per minute (duplex)
Color duplex scanner with
Ultrasonic double-feed detection
A Wide Variety of Applications
Exceptional Performance
Today, operating costs are on the rise, making ROI harder to achieve. The DR-M160 scanner provides the basis for efficient records management and paperwork reduction.
The M160 scanner delivers
capture capabilities that make an ideal addition, especially in the legal, financial,
healthcare, and government sectors.
The strength of the DR-M160 scanner is seen in its throughput, capacity, and overall performance. Scanning up to 60 pages per minute—both sides in a single pass—and holding up to 60 sheets in the ADF, it quickly captures and stores
business information.
Convenient and Usable Design
Flexible and Reliable Feeding
The DR-M160 scanner was designed with the user in mind from top to bottom. At less than a foot long and wide, it is a productivity booster in space-constrained areas. With an intuitive control panel to pre-program scan tasks, the DR-M160
scanner adopts and simplifies higher-end scanning features into a compact, easy-to-implement package.
New rollers designed for one-pass scanning and a document stopper for doublefeed prevention ensure more unattended and seamless scanning. Since batches often contain a variety of document types, the DR-M160 scanner can handle an assortment of hard copies, from long documents to embossed plastic cards as
well as thin paper using the new Thin Paper Mode.
High Quality Scanning
Intelligent Software
Accurate electronic capture helps eliminate the need for manual data entry, which saves time and mitigates risks associated with most business processes. As such, Canon recognizes the importance of precision and clarity. With improved gradation levels and capabilities such as Background Smoothing and Shadow Cropping, the DR-M160 scanner best reflects Canon's imaging expertise
The DR-M160 bridges the divide between hardware and software by offering an inclusive suite of applications. Canon's CaptureOnTouch and improved CapturePerfect enable users to share information using cloud applications
such as Evernote™ and Microsoft® SharePoint®.
Along with Kofax VRS basic and Nuance eCopy PDF Pro Office, the bundled software widens the scope of capture and output capabilities, increasing the overall quality of documents
scanned and how information is organized. The DR-M160 scanner is also bundled with ISIS®/TWAIN drivers for easy integration with third-party Enterprise ContentManagement (ECM) systems
Convert All Document Types
Environment in Mind
The new slanted paper path design of the DR-M160 and DR-2010C scanners guarantees smooth scanning of a wide variety of documents, from thick documents and multi-sheet forms, to driver licenses and even embossed plastic cards. And Canon's innovative feeding mechanism with its retard rollers will ensure reliable page separation for fast, unattended batch scanning.
The DR-M160 scanner is part of Canon's Generation Green Program. It also meets ENERGY STAR® guidelines for energy efficiency and complies with the EU RoHS and WEEE directives for reduction of hazardous substances and waste products.