Canon DR-2580C Scanner
The Canon DR-2580C Scanner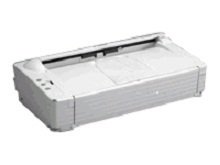 25 ppm/50 ipm
Color duplex scanner
For Canon Parts on this model
follow this link to our parts page
List Price
$ 1095
This model is discontinued and is no longer
being manufactured. Please review the
Canon DR-M140 Scanner
Canon DR-2580C scanner
Features
Among the first in the document scanner industry's workgroup segment to feature Ultrasonic Double-Feed Detection, the imageFORMULA DR-2580C scanner incorporates production- level features in a compact, portable design. Built to boost
productivity, it's capable of scanning at speeds of up to 25 pages or 50 images per minute.*
For maximum document handling flexibility, the DR-2580C scanner offers two feeding mechanisms, U-turn Paper Path and Straight Path. The DR-2580C scanner is capable of handling mixed document types, such as thick documents, multiple forms, and plastic cards. Batch scanning is a one-step process— simply drop mixed paper sizes into the 50-sheet ADF and press the Start button. Additionally, the DR-2580C scanner can easily handle large documents up to 39.4" in Long Document Mode or the occasional 11" x 17" in Folio Mode. For added versatility, the scanner can be paired with either a full or half letter-sized flatbed scanner unit to scan books, fragile documents,
or passports.
Loaded with Powerful Image Processing Software
The Canon DR-2580C color scanner arrives bundled with CapturePerfect®, Nuance eCopy PDF Pro Office, ScanSoft PaperPort, Nocson EasyConnect (available via D/L), Nuance OmniPage SE, Presto! BizCard SE, and Kofax VirtualReScan, so it's ready to use right out of the box. Plus, it's packed with intuitive features that give control of the image capturing process. CapturePerfect is a robust, out-of-the-box document imaging application that maximizes the performance of DR-Series
scanners, making it possible to scan, view, save, distribute, and print office documents more easily than ever before. Plus, CapturePerfect is compatible with every feature on the Canon DR-2580C scanner and offers a number of post-scan image editing functions.
Equally important, users can save files in TIFF, BMP, JPEG, searchable PDF for easier document retrieval, or encrypted PDF for security-sensitive documents. The software also offers several powerful features such as full-text OCR, file name indexing capabilities, folder capacity monitoring, and the ability to add/replace pages. An optional Barcode Software Module automates many workflow processes, including indexing, batch separation, and forms recognition.
Advanced Scanning Technology in a Small Package
The DR-2580C scanner is not only one of the smallest and most versatile in its class, but it's also incredibly easy to use. For one-touch operation, simply assign the most common
functions to its customizable Scan-To-Job Buttons. Enhance black-and-white scans with the Contrast Adjustment feature that sharpens images and makes text more distinctive
on low-contrast documents. Consistently capture high-quality images thanks to three-Dimensional Color Correction technology, and automatically adjust shading prior to each and every scan job with the built-in shading board.
The DR-2580C scanner also includes the Rapid Recovery System, which sends only completed image data to the application software, offering seamless scanning operation should a feeding error occur. And the Punch Hole Removal function removes the black dots that appear when scanning pages from booklets or binders.
Quick Feature List:
Includes new Straight Path feeding mechanism for scanning documents of unusual size and weight, including plastic ID cards, driver's licenses and insurance cards.
Rapid scanning speeds of up to 25 ppm in simplex or 50 ipm in duplex
One-touch scanning for commonly used functions with customizable Scan-To Job buttons
Automatically remove black dots from a document with binder holes for a more readable, cleaner-looking image with Punch Hole Removal function
Quickly and reliably scan mixed batch with efficiency-boosting features like Skip Blank Page and Automatic Page detection
Easily scan books or fragile documents by adding the optional, user-installable Flatbed Scanner Unit
Handles documents up to 11" x 17" in Folio mode (merges folded, then scanned, pages into 1 image)
Enhance black-and-white scans with the Contrast Adjustment feature that sharpens images and makes text more distinctive on low-contrast documents