Bookeye 4 V3 Book Scanner
Kiosk Edition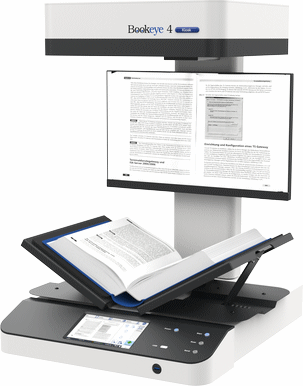 The Bookeye Gen 4
V3 Book Scanner
Kiosk Edition
Color overhead book scanner
Scans documents up to 15.3" x 18.9"
400 x 400 dpi resolution (upgradeable)
0.8 Sec. for A3+ Scan @ 150 dpi
book fold correction
Automatic finger- and thumb-print removal
Automatic crop and deskew
Standalone with internal PC
Gigabit TCP/IP Network Interface
This model has been replaced by the Gen 5 Edition. Please follow this link to see the new version.
Bookeye V3 Book Scanner
Full Features of the Larger A2+ Model at Entry Level Price
Bookeye® 4 V3 Kiosk is a true scanner solution, not just a digicam mounted on an expensive frame and it delivers professional image results. It was designed specifically as a self service book scanner / book copier for formats 50 % larger than A3 (390 x 480mm / 15.3 x 18.9 inch). With all the features of the larger A2+ model, the Bookeye ® 4 V3 Kiosk is perfect for offices, libraries, copy shops or other self service environments.
The Bookeye® 4 V3 Kiosk is so small that it can be set up on any desktop and the operator can easily scan in minutes. A casual user, from any walk of life, can quickly and easily operate this device. It offers the remarkable image quality of the larger overhead book scanner models at affordable, entry level pricing.