Bookeye 4 V2 Book Scanner
Basic Edition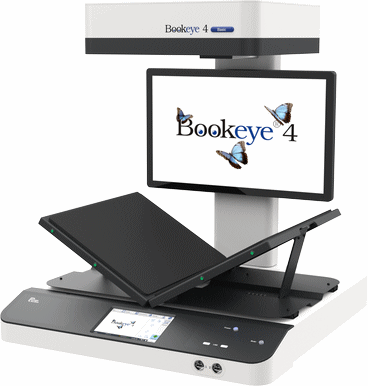 The Bookeye 4
V2 Book Scanner
Basic Edition
Grayscale overhead book scanner
Scans documents up to 18" x 24.4"
400 x 400 dpi resolution (upgradeable)
0.9 Sec. for A2+ Scan @ 150 dpi
book fold correction
Automatic finger- and thumb-print removal
Automatic crop and deskew
Standalone with internal PC
Gigabit TCP/IP Network Interface
This model has been discontinued.
Please see the new Gen 5 Version.
Includes a 2 Year
Manufacturers Warranty
Bookeye V2 Book Scanner
Full Features at Entry Level Price
Without being loaded with a lot of costly, unnecessary "features", the Bookeye ® 4 V2 Basic is still a full-fledged book scanner or book copier, ready for use anywhere where grayscale is enough.
Equipped with a standard scanning application, Bookeye® 4 V2 Basic scans documents, such as magazines, files, folders, bound documents, contracts, and accounting ledgers at a resolution of 400 dpi at high speeds.