ScanWizard
Scanning Software for Bookeye scanners

ScanWizard software is FREE and INCLUDED inside the book scanner on it's internal PC. The ScanWizard software controls the scanner directly through the external Touch Screen or through a browser on a PC on the same network as the scanner.
ScanWizard is operating system independent and requires no installation of any kind on the user's client PC since it is built right in to the book scanner. Once your network administrator has assigned the scanner an IP address and installed it on your network, any user can access the book scanner and operate it remotely using ScanWizard.
Bookeye ScanWizard Software
Features
The software comes with 28 predefined Job Templates. For example, 8.5x11" book, scan @ 300 dpi, output to multipage PDF. Or tweak the settings and save as your own Job Template. It's that easy.
Output to many file formats
Supports multiple users, multiple jobs and tasks.
Runs on any browser with Java script enabled.
Identical look and feel on Windows, Mac, Linux platforms
No need to install drivers, cards or anything else.
Supports all Bookeye scanners
Bookeye ScanWizard Software
Imaging Functions
Automatic Focus and Exposure Controls
Automatic Cropping with Page Masking
Automatic Border Recognition and Removal
Automatic Despeckle and Deskew Functions
Automatic Finger Removal
Automatic Book Channel Compensation
Automatic Document Rotation or Mirror
Automatic Page Splitting
Book Fan Removal (no side page edges showing)
Black Border Removal
Punch Hole Removal
Virtual Rescan with Real Time Image Editing
Scan up to 400 DPI upgradeable to 600 DPI
Anti-reflection Mode for glossy documents
Scan modes: Fast, High Quality and Anti-reflective
Real Time Image Enhancement: Brightness, Contrast, Sharpness
Color Removal
Color (8-bit/24-bit), Grayscale, Bitonal, Halftone, Inverted
ICC Profiles are supported and can be embedded in file
Color Space: Native, sRGB, Adobe RGB
Multiple file format outputs
OCR Option for single and multipage scanned documents.
Bookeye ScanWizard Software
Output Functions
Output File Formats:
PDF (single/multipage)
PDF/A (Archive)
Tiff (single/multipage)
Jpeg
BMP
Zip
AutoCAD DWF
Postscript / Encapsulated Postscript
Output Features:
Scan to Cloud: Google Docs, OneDrive, Drop Box.
Scan to external USB
Scan to SMB Shared drives
Scan to any FTP or FTPS server
Scan to Email
Scan to Remote Printer
ScanWizard can scan to many locations. View the choices list below: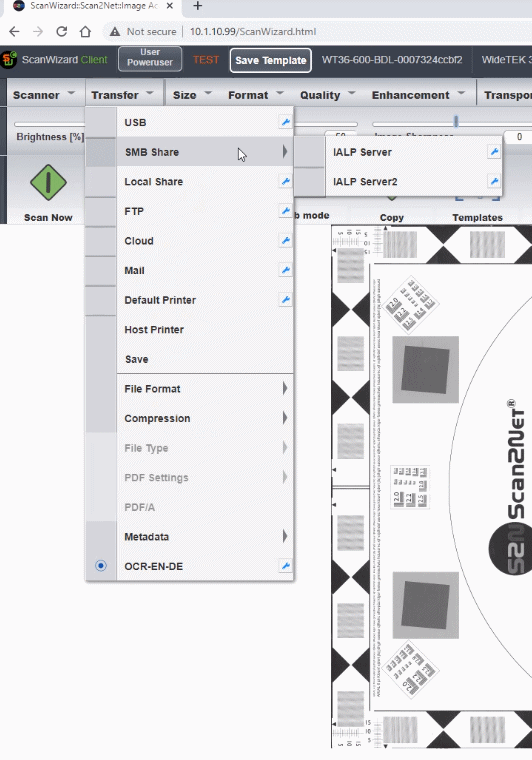 A close-up of the ScanWizard Toolbar: