Epson SureColor T5170 Wireless
36" Wide Format Printer
Epson SureColor
T5170 Wireless Printer
List Price
$2395.00
Your Price
$1995.00
In stock
Ink Included:
1-26 ml Cyan
1-26 ml Magenta
1-26 ml Yellow
1-50 ml Black
The T5475 is $2295 and has 440ml (4x110ml) Ink included. Up to 700ml sizes. Why buy 50ml for $43.95 when you can get 110ml for $66. It would only take 1 refill set to $ave money.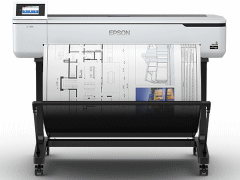 A1/D Size prints in as fast as 31 seconds
128 ml Ink included in the box
WxDxH: 50"x28"x36"; Weight: 101lbs.
(With Stand Included)
The T5475 is the newer model for $2295 and scans D size prints in 22 seconds.