Epson SureColor T3170X
24" Desktop Printer
The most popular desktop printer available.
Epson SureColor T3170X
24" Desktop Printer
Epson's entry-level 24" printer offers the convenience of on-demand professional printing at a reduced cost.
Cartridge-Free Printing: High-capacity ink bottles with auto-stop for easy, mess-free filling.
Ultra-fast print speeds: A1/D-size prints in as fast as 34 seconds1
Low running costs: Ink included in the box can print a substantial number of posters or technical drawings.
Easy to operate: Large, intuitive 4.3" color LCD screen simplifies print tasks
Compact, Clean Design: Ultra small footprint4with sleek, minimal design that enhances your workspace; easily fits on a desktop, or on its own with optional stand (sold separately)
Print from Virtually Anywhere in the Office: Easily print from Tablets, smartphones and more with integrated wireless plus router-free Wi-Fi Direct printing
Small size: Easily fits on a desktop.WxDxH: 38"x28"x9"; Weight: 60#
The Benefits of Ink Bottles (cartridge free printing)
Example: A bottle of Cyan Ink comes in 140ML size and costs $24.95. A Cyan Ink cartridge of the same size (actually a 110ML and a 26ML) would cost $91.95. It would cost 368% more money to print the same amount of Cyan. After 5 refills, the cost of an ink bottle printer @ $2195 versus an ink cartridge printer @ $995 would be less expensive. Plus, with the larger capacity 140ML ink bottles you spend less time adding ink since they hold more. You could even compare the 350 ML cartridge to the 140ML price and it's still 269% more costly.
Roll Media: 2 inch core, up to 4.3" Roll Dia.
Auto or Manual Roll Cutter
Single Sheet Media (8.27"x11" up to 24")
Auto Sheet Feeder: up to 11"x17"
Interface: USB 3.0, Wireless, Ethernet
One year NBD onsite warranty (extended warranties available)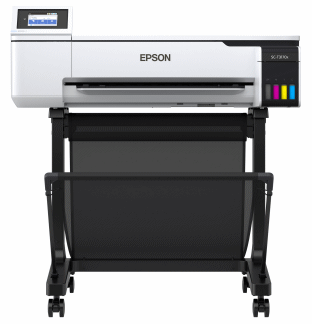 The SCT3170X with optional stand
SureColor T3170x Printer
Full Set of Initial Ink Bottles (140 mL)
Start Here Poster
User Guide
AC Power Cable
Media is not included with this printer
Download software,drivers from Epson.com