Panasonic Scanners

Panasonic Wins Prestigious 2019 Scanner Line of the Year Award
from the Analysts at Keypoint Intelligence
01/09/2019 Fairfield, NJ – Keypoint Intelligence - Buyers Laboratory (BLI), the world's leading independent evaluator of document imaging hardware, software, and services, today announced that Panasonic has won the coveted BLI 2019 Scanner Line of the Year award. Given once a year, this award recognizes the OEM whose product line as a whole stands above the rest in terms of the breadth of offerings and the prowess individual scanners exhibited in Buyers Lab's testing.
To determine the Scanner Line of the Year award winner, the BLI analysts judged the overall ratings as well as the ratings in key categories, such as:
Productivity
Reliability
Media Handling
Image Quality
Ease of Setup
OCR Performance
Drivers/Utilities
Value
"After another year of testing, Buyers Lab's lab technicians and analysts agree that Panasonic's portfolio of scanners proved to be the most impressive," said Joe Ellerman, Keypoint Intelligence's Manager of U.S. Lab Operations. "Each device that we tested this year was exceptional for its class, and the lineup received strong ratings in the Media Handling, Ease of Setup, Drivers/Software, Productivity, and OCR Performance categories. Four of those devices earned a Pick Award during Summer 2018, too."
Network Document Scanners
You connect scanner to a PC (or browser to it), configure the scan jobs, and save the jobs to the scanner. Then the scanner can act as a stand-alone without the PC. You cannot edit the jobs on the scanner itself, just choose from the job list.
KV-S1037x
color/duplex
30/60 ppm/ipm

$634

KV-N1028x
color/duplex
45/90 ppm/ipm

$1475

KV-N1058x
color duplex
70 ppm/140 ipm

$1750

kv-s2087
Color Duplex
85/170 ipm
200 pp ADF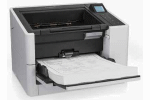 $2334
3 yr. wty.

15K DDC
KV-S5078Y
color, duplex
11"x17" Scans
330 Page ADF
120 PPM/240 IPM


$5016
60,000 Page Daily Duty Cycle
Includes 3 Year Advanced Unit Exchange (NBD) Warranty!
KV-S7097
Color Duplex
100ppm/200 ipm
11x17 ADF
and 11x17 flatbed
$6681

15K DDC
KV-S8127
Color Duplex
120ppm/240 IPM
11x17 ADF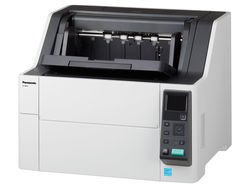 $13,375
100K DDC

KV-S8147
Color Duplex
140ppm/280 IPM
11x17 ADF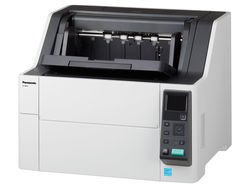 $16,347
100K DDC
All Panasonic models are available with Kofax VRS Elite software for even more image processing features
Give ScanTastik a call for the best pricing
on all document scanners
1-800-977-4935