Panasonic KV-N1028X Network scanner

45 Pages per minute and
90 Images per minute
in Duplex mode
5.6" LCD Touch Screen
Advanced Network Security
High-Speed USB 3.1 (GEN1) & Gigabit
Ethernet Interfaces
100 page Automatic Document Feeder
up to 3 embossed hard card feeding
Ultrasonic Double-feed Detection
Network Scan to Email / PC / FTP / Cloud*
30 programmable direct scan destinations
3 year 48 Hr. Advance Replacement Warranty Included !!
Compare to similar models
Panasonic
KV-N1028x
Network Connectivity, Large LCD Touch Screen and Network Security to meet exceptional demands
Watch the 2 minute video on the NEW kv-n1028x Network Scanners
Large 5.6" Color Touch Screen
With the addition of the 5.6" color touch screen on the scanner, users can adjust the settings from the the touch panel and have quick and easy access to the most used scanning operations. By selecting the desired operation from the touch menu, users can easily send scanned images or data via various destinations.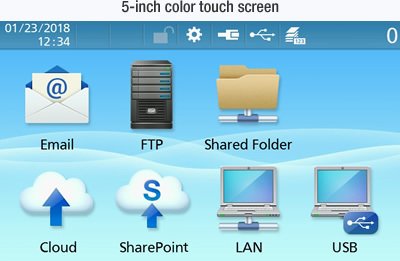 The scanner can handle almost any type of document from thin paper, to long documents like EKGs, embossed ID cards, and even passports. The KV-N1028X and KV-N1058X can be configured to scan directly to email, shared network folder, FTP, or client PC from the control panel when taking advantage of the built-in Gigabit Ethernet port.
Passport Scanning
By switching the DFP roller lever, multi-page documents, passports, and bankbooks can be scanned.
* Less 2.6 mm (0.1in.) thickness
* When scanning a passport or bankbook, use a carrier sheet(KV-SS076) to prevent paper damage.
Ultrasonic Double-Feed Detection
In addition to its double-feed prevention roller, the double-feed prevention system is enhanced by an ultrasonic sensor that detects the double feeding of originals during scanning. This innovative design prevents double feeding, and has been proven effective even when the documents being scanned contain a mix of paper of different weights or thicknesses. Thanks to ultrasonic double-feed prevention, optimum reliability is assured even when scanning high volumes of documents.
Long Paper Mode
The highly reliable paper feed mechanism quickly and accurately scans long documents. This function boosts work efficiency by smoothly scanning long monitoring sheets, like those used for EKG documents. There is not a length limit for scanning documents.
Active Double Feed Prevention Roller
The active double-feed prevention roller reverses rotation the instant that the leading document leaves the paper feed section to prevent the double-feeding of documents that are stuck together.
Image Capture Plus Software
Bundled standard with all Panasonic Scanners, the Panasonic Image Capture Plus Software is your ultimate capture solution. Featuring a wealth of image processing functionality, it ensures that you have the tools necessary to handle virtually any scanning requirement. Features of the Panasonic Image Capture Plus software include: Automatic Brightness Adjustment, Automatic Image Emphasis, Zonal OCR, Automatic Binary/Color Distinction, Double Exposure, Blank Page Removal, Automatic Crop, Automatic Deskew, MultiStream, Dynamic Threshold, Multi-Color Dropout, Hole Removal, Background Smoothing, 2-Page Separation, Multi-Crop, and more
Advanced Network Security Features Yield Higher Security
Send your scanned data safe and secure with the advanced network security features. The KV-N1028X and KV-N1058X come with encryption technology that supports SFTP and SSL communication. They also feature User Authentication and Access Control to provide high levels of security to mulitple users.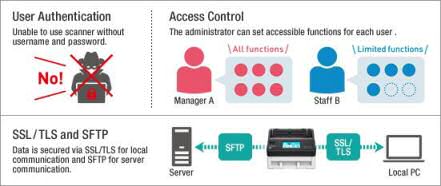 * Wired LAN and wireless LAN connections can not be used simultaneously.
More scanning options with wireless and wired connection
One scanner can be used by multiple users on multiple devices via wireless or wired connection making scanning jobs even easier and more convenient.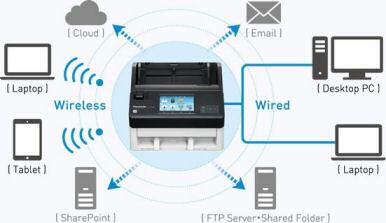 * When using more than two PCs, OCR function of ICP is optional.
* Wired LAN and wireless LAN connections can not be used simultaneously.
What's great about Wireless LAN Scanning?
Being able to connect to a wireless LAN can now allow users to perform scanning operations even in small spaces without connecting the scanner to the PC using the USB cable.

* Scan functions and operations are the same as when connected using USB cable
If you register scanning conditions in advance, you can scan directly to an FTP server, a shared folder (SMB), or e-mail via wired or wireless connection without using a computer.

Network PC Mode
Scanned data can be transferred to a PC via the LAN.
If you register scanning conditions in advance in Image Capture Plus, you can scan to a PC, FTP server, an SMB folder, SharePoint, Cloud, or Email using wired or wireless LAN.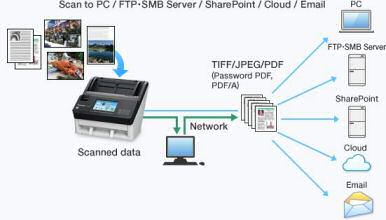 * PC and Image Capture Plus are required. These can be used in Network PC mode (scan to networked PC)
Scanned data can be transferred as files to an FTP Server without using a PC. Convenient for sharing large files that are too big to attach to Email.

* Transmission size limit is up to 999 pages or 256MB.
* SSL correspondence at the time of push scan of FTP and FTPS is scheduled to be dealt with in 2018.
Scanned data can be stored to a Windows shared folder (SMB folder) on LAN connected PC.

* Transmission size limit is up to 999 pages or 256MB.
Scanned data can be Emailed as file attachments. Up to 5 MB in total (including the header and Email message) of scanned data can be transferred to the Email server at one time. *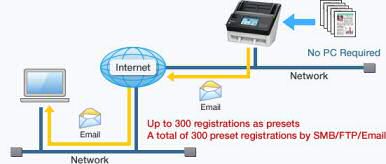 * Transmission size limit is up to 999 pages or 20 MB. The default setting is 5 MB limit.
* SSL compliant
Panasonic KV-N1028X Scanner
Specifications
Automatic Document Feeder
100 pages (20# paper)
Scanning Resolution
100-600 dpi (1 dpi step)
Optical: 600 dpi
Daily Duty Cycle
1028x: 4,000 Pages
1058x: 6,000 pages
Scanning Speed
(Letter, Portrait, 200/300 dpi)
KV-N1037X: 30 ppm/60 ipm
KV-N1028X: 45 ppm/90 ipm
KV-N1058X: 65 ppm/130 ipm
Scanning Method
1 line CIS Contact Image Sensor-Color
Scanning Face
Duplex Scanning
Image Output
Binary mode, Gray Scale mode (4/8 bit), 24 bit color and MultiStream (b/w & color)
Output Methods
Scan to Email, Scan to FTP, Scan to Shared Folder (SMB), Scan to Cloud, Scan to SharePoint, Scan to PC
Paper Sizes
1.9 x 2.1 in. to 8.5 x 14 in.
8.5" x unlimited
embossed hard cards
Image Control
Auto preview, Auto rescan, Automatic Brightness Adjustment, Multi Color Drop Out, Dynamic Threshold, White Level From Paper, Image Emphasis, Gamma, Automatic Separation, Noise Reduction
Other Functions:
Length Control, Patchcode Detection (Type 2, 3, T), Control Sheet detection, Long Paper, Double Feed Skip
OS Support
Windows: Vista, 7, 8, 8.1, 10: (32/64 bit) Windows Server® 2003, 2008 SP2, 2008 R2 SP1,(32/64 bit) 2012, 2016: (64 bit)
In Box Contents:
CD-ROM ( Device Driver, ISIS driver software, TWAIN driver software, User Utility, Scan Button Setting Tool, Image Capture Plus, Operation manual, Control sheet),
Quick Installation Guide, Power cord, USB cable (1.5m/USB 3.1), Mixed batch card guide, Shading sheet, Correction sticker
Power Requirements
AC 100 - 125V, 50 / 60 Hz
Power Consumption
Max, Min, and Sleep:
26 Watts, 6 Watts, and 2 Watts
Interface
USB 3.1 interface: Supported Super Speed for Gen1 (Not supported Gen2) Note: If the scanner is connected to a USB hub, it is not guaranteed to work. Ethernet interface : 10Base-T/100Base-TX/1000Base-T
Wireless LAN: IEEE802.11b/g/n (2.4Ghz only)
NOTES:
The scanning speed differs depending on the host computer, the operating system, the application, the measuring method, the quantity of data in the image, and the paper type. The scanning speed depends on a measuring method of Panasonic. In case of using this unit with a LAN connection, the scanning speed may be slower due to network traffic.
Using "Long Paper", you can scan long documents by splitting them into smaller parts.
Use the carrier sheet (KV-SS077) to scan passport. Depending on the condition (operating environment, dirt, scratches, etc.) of the carrier sheet or passport, the image processing function may not work properly. Scan beforehand to confirm the scanned image.
Less than 100 mm (3.9 in.) length paper or legal size: 50 sheets
The power requirement differs depending on the country/area.
If connected to a network device (hub, router, etc.) that supports IEEE802.3az.
Roller Cleaning Paper

To ensure optimal scanning performance, the paper feed rollers should be cleaned once a week or when 20,000 sheets or more are fed in the unit. Simply feed these sheets through the rollers to clean them !
For ALL Panasonic scanner models
Roller Kit

For the KV-n1028x and n1058x models
Keep your scanners running in top shape with this replacement roller exchange kit. Monitor your scanning volume by utilizing the Panasonic Scanner User Utility software and ensure that you are following the recommended replacement cycles. Proper scanner maintenance and following the recommended roller replacement cycle will help guarantee the longevity of your unit.
Recommended to replace rollers every 200,000 scans

Rated "excellent" by
PC Magazine
Read the review here
We do not have any customer reviews of this product.
Please follow the link below to add your review:
Product Reviews Form
Call us for your


Spring Savings


1-800-977-4935!