The Panasonic KV-S7097 Scanner
with Flatbed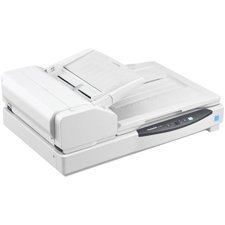 100 Pages per minute and
200 Images per minute
in Duplex mode, landscape feed @ 200 OR 300 dpi.
11x17 with ADF or flatbed
KV-S7097-JV with Kofax VRS Elite also available, call for a quote
List Price
$ 8995
Your Price
$6,681
Or call us for a quote
1-877-4935
Leasing as low as
$160 a month with
no payment until Jan. 2019*

Panasonic KV-S7097 Scanner Features
Full Color Duplex Scanning
200 page ADF
Panasonic Image Enhancement Technology With Color
Multi-Crop, 2 Page separation
Dynamic Threshold Technology
RTIV Image Capture Utility
Intelligent double feed detection with skip function
Multi-Color drop out.
USB 3.0 Interface
Optional PRE-scan imprinter (ADF only)
11"x17" & unlimited length long documents
Streamlining your scanning operation, Panasonic KV-S7097 low-volume production scanner combines a flatbed and sheetfeed ADF to create an all-in-one scanning solution. With the ability to scan virtually any type of document, from business cards to legal size paper, the KV-S7097 is an essential solution for scanning environments that handle large volumes of separated documents, as well as bound items such as books or passports.
Beyond standard documents, the KV-S7097 also features the ability to scan continuous documents of up to 100" in length such as EKG reports or well logs. The KV-S7097's extensive hardware elements are further maximized by a range of available software options. With the ability to purchase the unit bundled with either Panasonic's powerful "Image Capture Plus" or Kofax's advanced "VRS Elite Workgroup", the scanner will handle precision document reproduction and versatile image processing with ease.
Featuring a sturdy, dependable construction and a rugged and durable design, the KV-S7097 fits comfortably into any low-volume scanning environment. Whether it's scanning a single page or a full stack of documents, the KV-S7097 provides you with an exceptionally powerful and robust scanning solution.
The KV-S7097 Flatbed scans up to 11"x17" wide sheets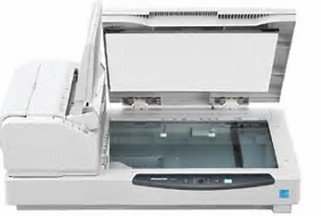 Flatbed Multi-Crop
With "Flatbed Multi-Crop", scanner users can utilize the large flatbed surface to scan books, magazines, passports or other bound documents in one pass, producing two separate images instantly. Use the convenient Start button to start a scan without having to control it from your PC.
Flatbed 2-Page Separation
Using "Flatbed 2-Page Separation, scanner users can place various sized documents on the flatbed surface and scan them all at once, then crop whatever parts are not needed. This is convenient for scanning multiple business cards, IDs, licenses and thicker documents.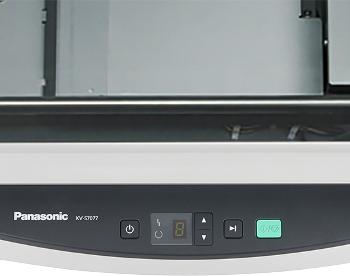 Closeup of the touch panel
200 Page ADF


A large capacity ADF (Automatic Document Feeder) is an essential part of any scanning experience. Users simply place up to the allotted document capacity into the ADF in the tray and start the scan job. This allows for an easily managed scan process, and saves users time by eliminating the need to individually feed pages one by one through the scanner.
Mixed Size Document Feeding
The ability to handle "Mixed Size Document Feeding" is an essential feature for any situation in which the scanner user may encounter the need to scan a multitude of different sized documents. This helps save time by feeding documents of varied sizes at the same time, from business cards to the maximum document size, without the hassle of having to continuously stop the scanning process to adjust settings or guiderails.
Double-Feed Detection Roller
Ensuring reliable scanning of large amounts of documents, the "Double-Feed Prevention Roller" helps prevent scanning mis-feeds. Assisting the document feeding process, the double-feed prevention roller separates the feeding documents from the second sheet onward. This ultimately helps to prevent the number of occurrences of sheets coming through as a double-feed.
Double-Feed Skip
The Double-Feed Skip function limits wasted time on paper-feed errors and provides a more valuable scan, by automatically pausing for labels and envelopes. Simply choose to skip, and scanning resumes as normal.
Long Paper Mode
The highly reliable paper feed mechanism quickly and accurately scans long documents. This function boosts work efficiency by smoothly scanning long monitoring sheets, like those used for EKG documents.
Advanced Hybrid Scanning Technlogy
To create the very best possible image, this scanner incorporates "Advanced Hybrid Scanning Technology". This combines a CIS (Contact Image Sensor) along with CCD (Charge-Coupled Device) to create a scanner with high-precision scanning technology. This hybrid system, coupled with a highly-luminous LED lamp, enables higher quality image scanning and provides the best possible image output.
Easy User Maintenance
Panasonic scanners are designed with the comfort and ease of use of the scanner user in mind. The clamshell design allows for full, easy access to the main paper path for Easy User Maintenance. This allows scanner users to effortlessly clear the occasional paper jam, clean the unit or replace the rollers without having to call a service technician
Imprinter Option Available
With the "Imprinter Option Available", this separately sold scanner accessory can be mounted to the scanner and used to print a string of characters on documents. The imprinter is beneficial in helping to raise filing efficiency and reliability, as well as ensuring that documents are processed correctly post scanning.
Auto Erasure Security
Scanning situations requiring the highest levels of security are benefitted by Auto Erasure Security. Scanners featuring this high security technology automatically erase all data from the scanner's built-in memory. This feature helps secure against data leaks and aids in preventing hardware hacking.
Image Capture Plus Software
Bundled standard with all Panasonic Scanners, the Panasonic Image Capture Plus Software is your ultimate capture solution. Featuring a wealth of image processing functionality, it ensures that you have the tools necessary to handle virtually any scanning requirement. Features of the Panasonic Image Capture Plus software include: Automatic Brightness Adjustment, Automatic Image Emphasis, Zonal OCR, Automatic Binary/Color Distinction, Double Exposure, Blank Page Removal, Automatic Crop, Automatic Deskew, MultiStream, Dynamic Threshold, Multi-Color Dropout, Hole Removal, Background Smoothing, 2-Page Separation, Multi-Crop, and more.
Kofax® VRS Elite Software
For environments where the Kofax® Virtual Rescan Elite Software is required, Panasonic also offers the Panasonic KV-S7097 scanner bundled with the Kofax® VRS software. Panasonic scanners that include the VRS software bundle are designated with a (-V) at the end of the model number. The Kofax® VRS Elite software provides a variety of advanced scanner applications such as: Device Health Monitor, Centralized Licensing, Profiles and Customizable User Interface, and more.
90 Day On Site Warranty
Panasonic provides a "90 Day On Site Warranty" standard with the purchase of the Panasonic KV-S7097 Series. This provides, in most cases, next business day scanner on site service for problems that cannot be remedied by our technical support hotline.
Panasonic KV-S7097 Scanner
Specifications
Automatic Document Feeder
200 pages (20# paper)
Scanning Resolution
100-600 dpi (10 dpi step)
Optical: 600 dpi
Main and Sub scanning directions
Scanning Speeds
B/W / Color
Letter, Landscape 200/300 dpi
Scanning Method
CIS (white or black background)
Scanning Modes
Simplex/Duplex Scanning
Output
Binary mode, Gray Scale mode (8 bit),
color, multi-stream
Paper Sizes
1.9 x 2.75 in.- 11.9 x unlimited inches.
flatbed: up to 11.7x17"
Output Resolution
Color: 24-bit
Grayscale: 8-bit
Monochrome: 1-bit
Output Color Depth
Color: 24-bit
Grayscale: 8-bit
Monochrome: 1-bit
Inbox Contents
Quick Installation Guide, Power Cord, USB
3.0 Cable, Panasonic Software CD-ROM
Bundled Software
Panasonic Image Capture Plus, EMC Quick
Scan Pro (Trial), Panasonic User Utility, TWAIN
Driver, ISIS Driver, WIA Driver
Options
Roller exchange kit (KV-SS015), Roller cleaning
paper (KV-SS03), Pre-Imprinter (KV-SS04)4, Ink
cartridge (KV-SS021), Kofax® VRS Elite 5
Workgroup (KV-S7097-V), Network Scanner
Option (KV-SSM100), Site Central
Management Software
OS Support
Windows XP-10 (32/64), Server 2003/2012 (32/64).
Power Requirements
AC 100 - 120V, 50 / 60 Hz
Weight
64 lbs. (shipping 90 lbs.)
Warranty Upgrades
This model comes with a 90 day
Next Business Day (NBD) on site warranty
We do not have any current reviews of this product.
Please follow the link below to add your review:
Product Reviews Form
Ask us about our
Black Friday Specials!
Call 1-800-977-4935
Best Sellers

Kodak i1150

25/50 ipm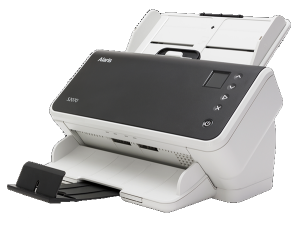 Kodak s2050
50 ppm/100 ipm
3 Yr. Wty.


Fujitsu fi-7160
60 ppm/120 ipm


Panasonic
KV-S1057C
65 ppm/130 ipm
3 Yr. Warranty


Fujitsu fi-7260
Flatbed scanner
60 ppm/120 ipm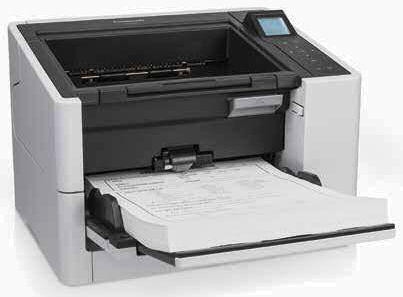 Panasonic
KV-S2087
85 ppm/170 ipm
3 Yr. Wty

Kodak
i3450 w/flatbed
90 ppm/180 ipm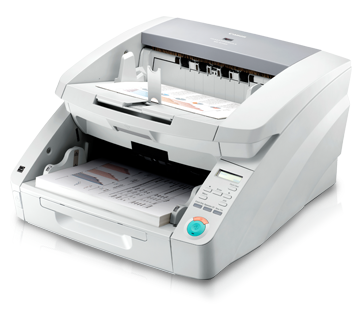 Canon
DR-G1100
100ppm/200ipm
11"x17"scans
Best Sellers