The Panasonic KV-S1026C-MKII Scanner
KV-S1026C-MKII Scanner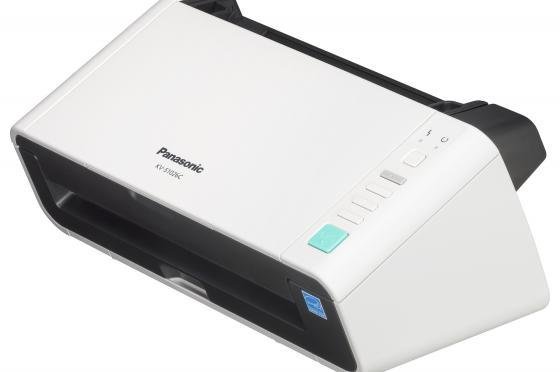 30 ppm/ 60 ipm Scan Speed
50 page document feeder
Panasonic KV-S1026C-MKII Scanner
List Price
$ 595
Your Price
$522


Compare to similar models


Watch the 3 minute Video on this Panasonic scanner
Panasonic KV-S1026C Features
Virtually any type of document, from business card size to legal size, from thin onion skin paper to thick hard ID cards, single sided or double sided, the KV-S1026C can scan them all in color or black and white. Fast and reliable, these compact but powerful scanners come with Image Capture Plus software that maximizes the potential of document scanning with precision reproduction and versatile processing. All of this in a quiet, space saving design that will fit comfortably in most front-office environments, even tight counter-tops and reception areas.
3 year 48 Hr. Advance Replacement Warranty Included !!
Despite its compact size, the KV-S1026C is also ready to scan full-color
double-sided originals at a speed of up to 30 ppm/60 ipm.
Mixed Documents & Multiple ID Card Feeding
Many different types of documents can be scanned thanks to the scanner's advanced automatic document feeder and feed roller system. In fact, multiple documents with thicknesses ranging from 5 lb to 91 lb bond can be scanned at the same time. And these scanners were designed to be able to combine paper documents along with a hard ID card; such as a driver's license, in single batch. You can even scan a stack of hard cards, including embossed cards continuously via the auto document feeder.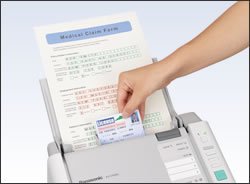 Double-Feed Prevention Roller System
While some scanners emphasize double-feed paper detection,Panasonic's emphasis is double-feed prevention. A newly developed roller material and document feed mechanism effectively prevents most paper jams and double-feeding. And should a feeding error occur, sensors are incorporated to detect the error and warn the operator.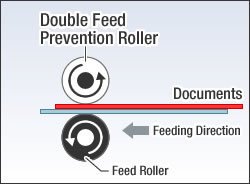 Ultrasonic Double Feed Detection
In addition to its double-feed prevention roller, the double-feed prevention system is enhanced by an ultrasonic sensor that detects the double feeding of originals during scanning. This innovative design prevents double feeding, and has been proven effective even when the documents being scanned contain a mix of paper of different weights or thickness. Thanks to double-feed prevention, optimum reliability is assured even when scanning high volumes of documents.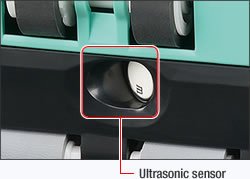 Automatic Image Orientation
Even when documents are set in different directions, this function detects the direction of the scanned text in documents and automatically rotates it into the correct direction.* This boosts work efficiency by eliminating the need to change the direction of each page in advance when scanning large quantities of documents with various sizes and directions. * The orientation of documents with many characters using text decorations may not be correct.

For smaller scan jobs, Touch Free Scanning is convenient for manual paper feeding - just insert documents directly into the scanner.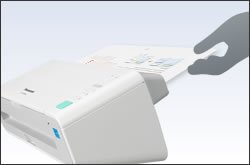 3 customizable preset keys simplify scan tasks. With the touch of a button, instantly start scanning documents and send them to a destination of your choice.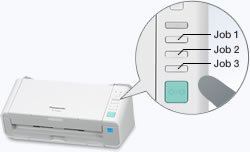 Security is a key concern for many businesses, institutions and government agencies. That's why Panasonic has incorporated a technology that automatically erases the scanned data stored in its image memory.
KVS-1026C Scanner
Specifications
Automatic Document Feeder
50 pages
Scanning Resolution
100-600 dpi (1 dpi step)
Optical: 600 dpi
Scanning Method
Single line CIS
Scanning Speeds
30 ppm/60 ipm @ 200/300 dpi
B/W or Color
Scanner features
Ultrasonic Double Feed Detection, Multi Color Dropout, Double Exposure, De-skewing, Image Emphasis, Gamma Correction, Automatic Separation, Noise Reduction, Shadow Removal, Mirror Image, Dynamic Threshold, Blank Page Removal, Error Diffusion, Automatic Binary / Color Distinction, Dither, Smooth Background, White Level from Paper
Paper Sizes & weights
1.9 x 2.8 in.
Up to 8.5 x unlimited in.
Thicknesses: 5 to 91 lb. paper
Image Processing Functions
Automatic Binary/Color Distinction, Multi Color Drop Out, Blank Page Removal, Double Exposure, Smooth Background, Automatic Cropping, De-skewing, Dynamic Threshold, White Level from Paper, Image Emphasis (5 steps), Gamma Correction, Automatic Separation, Noise Reduction, Shadow Removal, Mirror Image, Monochrome Reversing, 2-Page Separation, Border Removal and Automatic Image Orientation
Daily Duty Cycle
3,000 Pages Per Day
Power Requirements
AC 100 - 120V, 50 / 60 Hz,
AC 200-240 V 50/60 Hz
Power Consumption
Scanning mode: 17 W or less
Idle mode: 4.5 W or less
Sleep mode: 1.6 W or less
Power off mode: 0.3 W or less
Image Output
Binary, Grayscale, Color, MultiStream (Color & Binary or Gray & Binary)
Other Functions
Zone OCR (a function of the Image Capture Plus software that adds characters from the document to the output file name), Separation sheet, Single Touch Scan, Skip key
In the box
DVD-ROM: Drivers and Utilities (for Windows®) / User Manuals Driver software, Quick Reference Guide, Mixed batch card guide, AC adapter, Power cord, USB cable, Shading paper, Guidance sticker, and Correction sticker
Bundled Software
Panasonic ImageCapture Plus, Panasonic User Utility, ISIS/TWAIN/WIA, ABBYY® FineReader 12 Sprint
OS Support
Windows® XP (32bit / 64bit), Windows Vista® (32bit / 64bit) Windows® 7 (32bit / 64bit), Windows® 8, 8.1 (32bit / 64bit) Windows® 10 (32bit / 64bit), Windows Server® 2003 (32bit / 64bit) Windows Server® 2008 (32bit / 64bit), Windows Server® 2012 (64bit) Windows Server® 2016 (64bit), Mac OSX 10.x.x or higher Citrix XenAPP 6.0/6.5, Linux RedHat Enterprise Desktop 6/7, Ubuntu 14/15
PC Requirements
Minimum: Intel® Core 2 Duo 1.8GHz Processor, 1GB Memory or Higher Recommended: Intel® Core i5 2.5GHz Processor, 4GB Memory
Specifications are always subject to change without notice
Roller Cleaning Paper

To ensure optimal scanning performance, the paper feed rollers should be cleaned once a week or when 20,000 sheets or more are fed in the unit. Simply feed these sheets through the rollers to clean them !
For ALL Panasonic scanner models

Be the first to enter a review of this product.