Panasonic KV-S5076H Scanner
PC Magazine Editor's Choice Award Winner!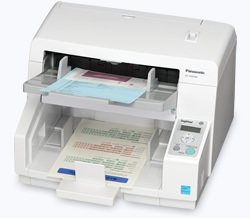 Up to 100 ppm/200 ipm
High Speed Color Duplex Scanner With ADF
On-board image processing
300-page automatic document feeder
Up to 600 dpi optical scanning resolution
Auto Rescan technology
Auto Preview
USB 3.0 Interface
Ultrasonic double-feed, empty, size, jam detection
Self-cleaning by design (5076H only)
Staple Detection (5076H only)
35,000 documents per day (daily duty cycle)
99 Programmable workflow buttons on the scanner face.
(note the larger LED screen)
The KV-S5076H scanner comes with a 3 Year
Advanced Unit Replacement (AUR) Warranty from Panasonic
KV-S5076H
Up to 100 ppm/200 ipm,
Color Duplex Scanner
List Price
$6,195
Your Price
$4,079

Or call us for a quote
1-800-977-4935
Leasing as low as
$129 a month with
a $1 equipment purchase price
at the end of the lease.

KV-S5076H-V
With Kofax VRS
Elite 5.0 Software

List Price
$7,645
Your Price
$5,353

Or call us for a quote
1-800-977-4935

Compare to similar models

Read the review
HERE
Watch the 7 minute detailed video:



Panasonic KV-S5076H Scanner
Introducing a whole new way to scan. With on-board CPU image processing, the new Panasonic KV-S5076H scanner radically outpaces the competition. Instead of a slow software interface, the scanner's on-board processor does the heavy lifting.
Hardware image processing on the KV-S5076H allows you to scan a document and sample different scan settings without rescanning the original over and over. Until you output your document as a file, the original document data is temporarily stored in memory. This allows you to manipulate a scan without the time and frustration of rescanning.
The KV-S5076H Series scans up to 11"x17" wide sheets of paper
The scanner has a 35,000 page per day rating for their Daily Duty Cycle
High Speed Full Color Scanning
Black & White, Grayscale Scanning
Duplex and Simplex scanning modes
Thin Paper Scanning Mode
Long Paper Scanning Mode
Mixed Document Mode
300 Page Auto Feeder
Ultrasonic Double Feed detection
Blank page detect
Bar code detection (ISIS Driver)
Searchable PDF, PDF & PDF/A
JPG,TIFF, & BMP output
Stapled Document Detection
Multiple sensors are used to detect various types of stapled documents, and to immediately stop the scanner when stapling is detected. This minimizes damage to both the document and the optical glass. (Feature not available on the KV-S5046H)

Physical paper skewing is reduced by the integrated Mechanical Deskew system. Even when skewed documents are fed into the scanner, the Mechanical Deskew system physically adjusts the paper before the paper is scanned by the CIS (Contact Image Sensor).* *There is a limit to the skewing correction. Skewing reduction is effective for documents that are skewed up to approximately 5 degrees.
* only available on the KV-S5076H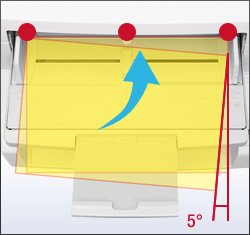 Self Cleaning Functions - The Ionizer
The ion-filled breeze created by the ionizer neutralizes the electrical charge on the documents to be scanned, and reduces the amount of paper dust that clings to their surface. This ion-filled breeze also flows through the paper path and removes paper dust from the scanning glass to reduce the need for the user to clean the glass.
* only available on the KV-S5076H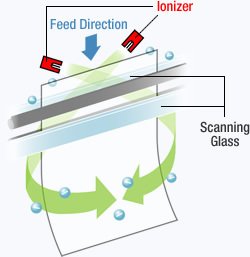 Paper Ejection Control
The paper exit roller reduces the speed of the paper being ejected and aligns the paper to prevent paper jams or the loss of originals. Different length documents no longer come flying out of control into the exit tray. Each document exits at the same speed. In addition, the scanner exit tray has adjustable "slide panels" to align the exit documents together after they are scanned.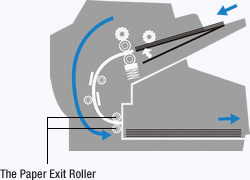 * only available on the KV-S5076H
Automatic Image Orientation
Even when documents are set in different directions, this function detects the direction of the scanned text and automatically rotates the document into the correct direction. This boosts work efficiency by eliminating the need to change the direction of each page in advance when scanning large quantities of documents with various sizes and directions.
Mixed Size Document Feeding
The ability to handle "Mixed Size Document Feeding" is an essential feature for any situation in which the scanner user may encounter the need to scan a multitude of different sized documents. This helps save time by feeding documents of varied sizes at the same time, from business cards to the maximum document size, without the hassle of having to continuously stop the scanning process to adjust settings or guiderails.
Image Capture Plus Software
Bundled standard with all Panasonic Scanners, the Panasonic Image Capture Plus Software is your ultimate capture solution. Featuring a wealth of image processing functionality, it ensures that you have the tools necessary to handle virtually any scanning requirement. Features of the Panasonic Image Capture Plus software include: Automatic Brightness Adjustment, Automatic Image Emphasis, Zonal OCR, Automatic Binary/Color Distinction, Double Exposure, Blank Page Removal, Automatic Crop, Automatic Deskew, MultiStream, Dynamic Threshold, Multi-Color Dropout, Hole Removal, Background Smoothing, 2-Page Separation, Multi-Crop, and more.
Kofax® VRS Elite Workgroup Software
For environments where the Kofax® Virtual Rescan Elite Software is required, Panasonic also offers the Panasonic KV-S2087 scanner bundled with the Kofax® VRS software. Panasonic scanners that include the VRS software bundle are designated with a (-V) at the end of the model number. The Kofax® VRS Elite software provides a variety of advanced scanner applications such as: Device Health Monitor, Centralized Licensing, Profiles and Customizable User Interface, and more.
3-Year Advance Exchange Warranty
Panasonic provides a "3-Year Advance Exchange Warranty" standard with the purchase of the Panasonic KV-S5076H. This provides, in most cases, next business day scanner replacement for problems that cannot be remedied by our technical support hotline.
Superior Roller Mechanisms
The paper feed rollers separate from the paper each time a sheet is fed, so the tendency to double-feed caused by the paper feed roller pressure is reduced, even when feeding paper of different thicknesses. Any paper sliding is also detected and the double feed prevention roller pressure is adjusted to prevent the paper from slipping and jamming.

Scanning Glass Cleaning Brush
The brush directly cleans the scanning glass to further prevent paper dust. This eliminates the need for maintenance and ensures comfortable scanning operations.



Panasonic scanners are designed with the comfort and ease of use of the scanner user in mind. The clamshell design allows for full, easy access to the main paper path for Easy User Maintenance. This allows scanner users to effortlessly clear the occasional paper jam, clean the unit or replace the rollers without having to call a service technician.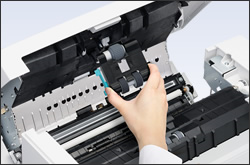 Scanning situations requiring the highest levels of security are benefitted by Auto Erasure Security. Scanners featuring this high security technology automatically erase all data from the scanner's built-in memory. This feature helps secure against data leaks and aids in preventing hardware hacking.
Imprinter Options Available
With the "Imprinter Option", this scanner accessory can be mounted to the scanner and used to print a string of characters on documents. The imprinter is beneficial in helping to raise filing efficiency and reliability, as well as ensuring that documents are processed correctly post scanning.
What's a Pre-imprinter ?
The pre-imprinter prints text on the surface of a document before its image is scanned so the text data is included in the scanned image data.
"CASE#: ABC-1234"
What's a post-imprinter ?
The post-imprinter prints text on the back side of a document after its image is scanned so the text data is NOT included in the scanned image data "scanned 1-1-2013"
*Post imprinter not available on the KV-S5076H
Barcode Detection (ISIS only), Patch Code Detection, Automatic document separation, and Control sheet functions are included with the scanner.
KV-S5076H Scanner Specifications
Scan Modes
Simplex / Duplex
Rated Speed
Landscape: 100 / 200 (B/W & Color - 200/300 dpi, Letter)
Portrait: 80 / 160 (B/W & Color - 200/300 dpi, Letter)
Scanning Method
Color CIS (Contact Image Sensor)
Image Output
B/W, Grayscale,Color,Multi-stream
Paper Scanning Sizes
Min.: 1.9" x 2.75"
Max.: 11.7" x 17"
Long paper mode: 12"x100"
Paper Scan Weight limits
5-42 lbs.
Maximum Resolution
600 dpi optical (scalable from 100-600 dpi)
Daily Duty Cycle
35,000 pages
Double Feed Detection
Ultrasonic Sensor (1)
Operating Systems
Windows XP, Vista,7,8,10, Server 2003,2008,2012
Also Included:
CD ROM: Operation manual,Installation Guide,
Image Capture Plus application software
User Utility software, Control sheet,
ISIS/TWAIN driver software,
Power cord,USB Cable, roller cleaning paper,
shading paper and exit support sheet
Image Controls:
Auto preview, Auto rescan, Image emphasis,
Dynamic threshold, Invert, White level from paper
Interface
USB 3.0 (2.0 compatible)
Other Functions
Length control, Barcode detection (ISIS),
Patch code detection, Control sheet, Long paper mode
Imprinter Model Option
Pre-Scan KV-SS014
(Ink cartridge: KV-SS021)
External Dimensions
18.5"W x 17.5" D x 13.5" H
Panasonic Scanner Warranty Upgrades
(this model includes a 3 year Advanced Exchange Warranty)
3 Year NBD Onsite Repair Warranty
(upgrade from Advanced Exchange).
Includes 2 Periodic cleanings per year.
Call us for your


Winter Savings


1-800-977-4935!