Bookeye 4 V2 Book Scanner
Professional Archive Edition
with 600 dpi Scanning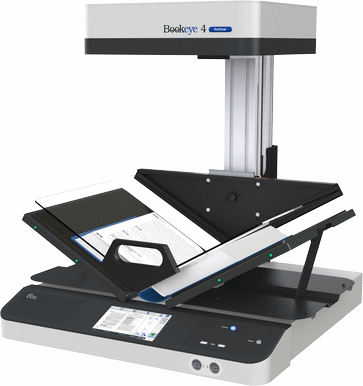 The Bookeye 4
V2 Book Scanner
Professional Archive Edition
Color overhead book scanner
Scans documents up to 18" x 24.4"
0.9 Sec. for A2+ Scan @ 150 dpi
600 x 600 dpi resolution
V Shaped Glass Plate
Integrated billing module
Folder Mode for scanning folders
Open client interface for operation with Batch Scan Wizard and other 3rd party S/W.
This model has been discontinued.
Please see the new Gen 5 Version.
Bookeye 4 V2 Book Scanner Professional Edition
Productivity and Quality for Digitization Projects
Bookeye® 4 Professional overhead book scanner and book copier is suitable for digitization projects that require high quality and maximum productivity even in 24/7 operation. While the Kiosk edition can scan up to 400 dpi, the Professional edition scans up to 600 x 600 dpi in full color.
Originals up to A2+ in size such as books, magazines, posters, folders or bound documents of all types, can be digitized at high speed and a maximum resolution of 600 dpi using Bookeye ® 4 Professional.