The Kodak Scan Station 710 scanner
A direct-to-network document scanner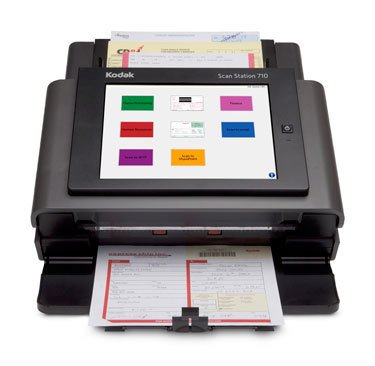 The Kodak ScanStation 710 Scan to Network Scanner
70 ppm/140 ipm


List Price
$2495.00
This model has been discontinued. Please see the new 730ex PLUS model.
Information in. Problem resolution out.
Seamless connector. Project archiver. Instant messenger. Exceptional performer. With capabilities like these, the KODAK Scan Station 710 has more functionality than you'd ever expect. And with its intuitive touchscreen, simple network setup, and robust remote management, it can give you an edge right out of the box. Which means the KODAK Scan Station 710 is more than a scanner. It's your new information manager.
Combine our bright, easy-to-navigate touchscreen, intuitive user controls, and administrator controlled functionality for a user experience that promises fewer mistakes and faster proficiency without the distraction of a separate PC. And Scan Station's quiet operation makes it office friendly.
70 pages per minute 140 images per minute in duplex mode (200 dpi)
with a 6,000 page daily duty cycle.
Information Management Made Easy
With increased ease of operation and improved file naming and security features, scanned content can be classified, organized, and searched by ad hoc users with minimal training while maintaining the degree of accessibility and security you've established.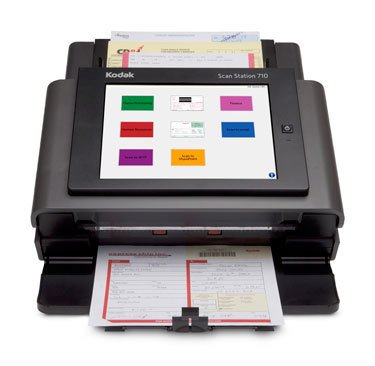 Built to be Faster:
Up to 9X faster than the competition (200 dpi, color duplex mode)
Scan up to 6,000 pages per day
Robust and versatile paper handling
Feeder tray holds up to 75 pages
Single-pass, double-sided scanning saves time
Built to be Secure:
Enable or disable scanning to portable flash drives
User Authentication based upon standard Windows OS™ authentication
Transaction log tracks all usage by User
PDF private key encryption
Secure login via LDAP
Built to be easy to Use
Intuitive touch screen operation
Blank Page Removal instantly reduces file size
Frequent job settings can be programmed for timesaving convenience
Easy to configure remotely
Kodak's Perfect Page Scanning for great image quality—automatically
LDAP address lookup is compatible with your company directory
Files can be named according to your company standards
Built to be Office Friendly
Whisper-quiet operation
Scan and send with one device—no additional hardware or software required
Ergonomically correct for standing or seated operation
Ideal for walk-up or dedicated use
Scan Station 710
Specifications
Connectivity
10/100/1000 Base T, no host PC required
Output Methods
Scan to network share
Scan to print
Scan to e-mail
Scan to fax server
Scan to portable USB drive
Scan to FTP, sFTP, FTPS (anonymous, authenticated, with proxy support)
Scan to Microsoft SharePoint
Network Protocols
FTP, HTTP, WINS,TCP/IP,SMB
authenticated SMTP (login, plain text, CRAM, NTLM,
DHCP (or static IP),
Network Domain Authentication
File Format Outputs
Single and multipage TIFF
JPEG
PDF
Text searchable PDF
Encrypted PDF
Microsoft Word
Microsoft Excel
RTF
Optional JPEG compressed TIFF
WAV audio files
Security Features
PDF Private Key Encryption
Optional password access
Option to control ability to scan to portable USB
Secure login via LDAP
Activity logging by Login ID
IP Port Blocking
Remote Administration
(Sys admin only)
Secure login with a customizable password
ability to create and manage lists of Scan Station 710 devices
group and easily classify managed devices
update the confi guration and/or embedded software of one, some or all managed devices
view the status of managed devices
remotely access and manage the logs of a single managed device
restart or power on a single managed device
Control Panel
9.7 in. 1024x768
Touch screen LCD
Audio
Built-in microphone and speaker to record and play back Voice Attachment messages
Multifeed Detection
With ultrasonic technology
Scanning Technology
Duplex scanning with dual color quad-linear CCD
600 dpi optical resolution
Capture bit depth is 30 bits (10 x 3)
Color output bit depth is 24 bits (8 x 3)
Grayscale output bit depth is 256 levels (8-bit)
Illumination
Dual Fluorescent (cold cathode)
Output Resolution
75, 100, 150, 200, 240, 300, 400 and 600 dpi
1200 dpi with flatbed accessory
Imaging Features
Perfect Page Scanning, deskew, autocrop, content-based blank page removal, automatic orientation, hole fill, edge fill, streak filter, color dropout.
Throughput Speeds
Black-and-white/grayscale/color: up to 70 ppm/140 ipm at 200 dpi
Feeder
Up to 75 sheets of 75 g/m2 (20 lb.) paper.
Max. Document Size
(8.5 x 34 in.) – may be restricted at certain resolutions
Min. Document Size
Single-sheet feeding:( 2.0 x 2.5 in.)
Multiple-sheet feeding:
Multi-sheet feeding: 3 x 5 inches
Paper Thickness and Weight
52-413 g/m² (110 lb.) paper
ID cards up to 1.25 mm (0.05 in.) thick
Recommended Daily Volume
Up to 6,000 pages per day
Power Consumption
Standby: <4 Watts; Operating: <50 Watts
Environmental Factors
Operating temperature: 10-35° C (50-95° F);
Operating humidity: 10% to 85% RH
Dimensions
Weight: (23 lbs.)
Depth: (15 in.))
Width: (14.0 in.)
Height: (8.2 in.)
What's in the Box
KODAK Scan Station 710, seven power cords for international applications, User's Guide, Setup & Documentation CD-ROMs, Quick Install Guide, scanner administration software
Accessories Available
Portable USB drives
KODAK Scan Station 710 Keyboard and Stand Accessory
KODAK A3 Flatbed Accessory (11x17")
KODAK A4 Flatbed Accessory (letter size)
Consumables Available
Feed Modules, Roller Cleaning Pads, Staticide Wipes
Interfaces
On rear panel: 4- USB 2.0 ports, one RJ45 10/100/1000 Base T Ethernet port, and one RJ11 telephone jack
On bezel: one USB 2.0 port