The Fujitsu fi-7180
scanner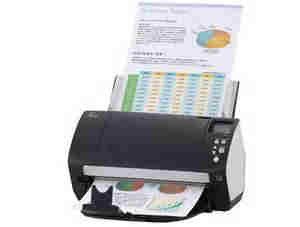 Scans 80 ppm/ 160 ipm
in Color, Grayscale, or Black & White.
Compare to similar models
Provides unmatched performance and market-leading document imaging capabilities with faster scanning speeds
With duplex scanning speeds of 160 images per minute at 300 DPI in Color, Grayscale, and Monochrome, the fi-7180 and fi-7280 protect your documents with acoustic sensors, ensure your data is captured with smart ultrasonic technology, and reduce rescans by cleaning up documents automatically in a single pass. Reliability is enhanced even further with new skew prevention technology for exceptional paper handling.
Continuous hard and embossed card scanning up to 1.4 mm thick
Ultrasonic Double-feed Detection sensor for security against lost images
USB 3.0 for forward compatibility
Scan sticky notes, taped receipts, and labels while securing against multifeeds
Long document support up to 18 feet in PaperStream IP
The PaperStream IP driver takes the work out of image cleanup when scanning invoices, ID cards, receipts, forms, or any other day to day paperwork. PaperStream IP automatically improves the image quality, removes unwanted backgrounds, and optimizes your scanned images for optical character recognition. It is fast and easy to use.
Our latest innovation, Assisted Scan, allows users to replace poor images by visually selecting the image they lack rather than learning driver settings. If driver settings need to be adjusted for rare and difficult documents, our preview function allows scan operators to see their adjustments in real-time without time consuming re-scans. PSIP works with both ISIS and TWAIN applications.
PaperStream IP for McKesson DCS
McKesson DCS 15.1.4 CP7, 16.1.2, 16.2.2 and higher now supports PaperStream IP with barcode reading. McKesson ILE is supported as well.

PaperStream Capture (PSC) makes advanced capture with Fujitsu scanners easier than before. PaperStream Capture has a streamlined User Interface to reduce training time and increase productivity. Not only have we provided users with the most common profiles used by customers—black and white, color, and auto-color—new profiles are easily created or modified through a wizard.
We have organized the release screen so that batches can easily be suspended or continued. PSC is also integrated with PaperStream IP's assisted scanning for visual cleanup of documents. The reading of barcodes and patch codes make batch separation easy, improving document organization.
Whether the infrastructure is fixed or expanding, managing technology efficiently inside the organization is key to reducing total cost of ownership and the Fujitsu fi-7180 scanner provides system administrators with advanced software tools to centrally manage the scanner more productively and cost effectively.
Agent, console and server remote scanner management
Real-time Fujitsu scanner inventory
Status and alert monitoring
Centralized driver update deployment
Consumable management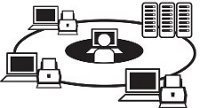 Fully Loaded One Box Solution
Fujitsu fi-7180 and fi-7280 scanners have everything needed to integrate with thousands of software applications in the market or with PaperStream Capture, an advanced yet easy to use scanning application provided in the box.
PaperStream IP Image Cleanup (TWAIN & ISIS)
PaperStream Capture batch scanning and PDF creation software
One-year Advance Exchange Limited Warranty
And the one-year Limited Warranty, along with eligibility for our Advance Exchange Program, provides peace-of mind. Contact ScanTastik at 1-800-977-4935 for more information on available warranty options
80-page Automatic Document Feeder (ADF)
Color, Black & White, and grayscale scanning up to 80 ppm/160 ipm @300 dpi
Interactive, Multi-Line LCD Panel
Automatic Image Cleanup with PaperStream IP Drivers (TWAIN & ISIS)
Advanced PaperStream Capture Software
Innovative Acoustic Paper Protection
Embossed card scanning (1.4 mm thickness)
Scanner Central Admin Software for Fleet ManagementHardware based JPEG compression
Includes TWAIN and ISIS driver support
High-speed USB 3.0 connectivity
Eco-Friendly LED Scanning